The Capitals' reputation as a team that can't get it done in the playoffs is well-established. Considering Alex Ovechkin's, Nicklas Backstrom's and Mike Green's impressive postseason numbers, it's somewhat of a mystery. Here's a look at how each playoff exit happened, with some help from ex-coach Bruce Boudreau:
2007-08
Regular-season record: 43-31-8, 94 points
---
SEE ALSO: Nowhere to go but Cup: Capitals look to shake past playoff failures
---
Playoff seed: 3rd
When Boudreau took over for Glen Hanlon on Thanksgiving Day, the Caps were floundering. They turned things around quickly and finished the season with an 11-1 spurt to win the Southeast Division.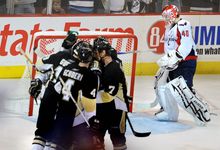 Facing the Philadelphia Flyers, who had one more point and were favored in the series, the Caps fell behind 3-1 before forcing Game 7 at home. Defenseman Tom Poti took a tripping penalty in overtime, and Joffrey Lupul scored the series winner on Philadelphia's power play.
2008-09
Regular-season record: 50-24-8, 108 points
Playoff seed: 2nd
It took only one game for Boudreau to yank goaltender Jose Theodore in favor of Semyon Varlamov, and the Caps came back from a two-game deficit to beat the New York Rangers in seven.
Varlamov wasn't himself late in the Eastern Conference semifinal series against the Pittsburgh Penguins.
"It was Varly's rookie year and he played a lot of games in succession. I thought maybe after Game 4 he was looking week, but I didn't pull him," Boudreau said. "If I'd have pulled him after Game 4 and put Theo in, I think we would have at least had a rested Varly for 6 and 7 because Game 7 he was horrible, Game 6 was a [5-4 overtime win]. Again, he looked weak."
He allowed four goals on 18 shots in 23 minutes as the Caps got blown out 6-2 in Game 7.
2009-10
Regular-season record: 54-15-13, 121 points