Verizon Center fell so silent that the decibel meter could've registered zeros. The same building that was a house of horrors for the New York Rangers during the previous 11 playoff meetings couldn't muster a sound as the Washington Capitals fell behind by one goal, then two, then three.
By the time Mats Zuccarello scored to make the deficit five, fans poured to the exits and a half-empty arena watched the clock tick away.
What looked so promising in three victories in the District earlier in the Eastern Conference quarterfinals was a disaster Monday night in Game 7. Forget about home-ice advantage: The Caps are just going home after a 5-0 whipping at the hands of the Rangers.
"We didn't bring the right effort for a Game 7 win," goaltender Braden Holtby said. "You can't go in expecting to win."
Given the tightness of the series, it was shocking that the Caps did not put up a fight in being eliminated.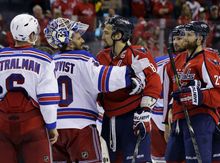 "We didn't execute, so shame on us," center Nicklas Backstrom said. "We weren't good enough."
Blank stares were common in the home locker room and players and coach Adam Oates had no real answers as to why this one devolved into a blowout.
"That's as tough as it gets right there," forward Eric Fehr said. "It's really disappointing. We played a hard series. And [I'm] not even sure what happened."
The end unfolded in stunning fashion as the constants that were so reliable in getting Washington from the dregs of the conference to the playoffs abandoned them one-by-one.
MVP finalist Alex Ovechkin registered just one power-play goal and an assist in the series and was held without a goal for the final six games. Credit Rangers forward Ryan Callahan and coach John Tortorella almost as much as shutdown defensemen Ryan McDonagh and Dan Girardi.
Defenseman Karl Alzner called said "it's hard to overcome" Ovechkin's lack of production.
Goaltender Braden Holtby, who kept the Caps afloat so often this series and season, imploded Monday night. He allowed a goal to grinder Arron Asham in the first period that beat him clean, and that was just the beginning as he allowed five on 27 shots.
"I think he's been playing great all series, all season," Backstrom said. "He's a young, talented goalie and without him we wouldn't be here today in the playoffs. His performance this series and the whole year has been amazing, I think, and it's been fun to watch. He's not the reason we lost. That's me, myself, and on the players."
Those players on the NHL's best power play couldn't get it done, scoring just once in the final five games and three times in the series. New York's discipline and the Caps' lack thereof didn't help, either, but that wasn't the problem Monday night.
"I didn't think we paraded to the penalty box like we did [Sunday] night, but we didn't execute," forward Matt Hendricks said. "We didn't play the system the way it was designed to be played."