Alex Ovechkin lifted the Washington Capitals into the playoffs on his stick blade. Scoring 23 goals in 23 games, he was the reason the season turned around.
That was enough to make him a Hart Trophy finalist. But totaling just a goal and an assist in seven games against the New York Rangers made him the focal point of yet another early playoff exit.
Ovechkin doesn't see it that way.
---
SEE ALSO: HARRIS: Capitals' latest playoff collapse not ghosts' fault, but still might haunt
---
"Of course when you lose the game and when you lose the series, everybody try [to] find the guy who didn't do something out there," he said Tuesday before leaving to represent Russia in the world championships. "But as a captain and as a player, I can see everybody do exactly what they have to do. Of course [it] was mistake[s] by me, by everybody, but that's why we have five guys out there to cover mistakes. One guy can't win the championship. Only like team success."
So much of the Caps' team success rides on Ovechkin, the NHL's leading goal-scorer whose transition to right wing was one of the keys to a fifth Southeast Division title in six years. Coach Adam Oates didn't criticize the MVP candidate's performance against the Rangers, instead saying he played great hockey.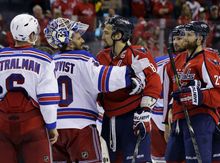 "Just didn't go in for him," Oates said.
Therein lies the problem. Ovechkin can be as physical as he wants and control the puck as much as he did for parts of the Eastern Conference quarterfinals, but he's ultimately counted on to score.
"In the playoffs, it doesn't matter if you score or not," Ovechkin said. "You have to win. Team success is most important thing out there. … In seven games, I have two points and we still lose. What's the reason? I didn't score and we lose. I score, we lose. It's kind of position where everybody have to make a difference."
The Caps predictably beat the Rangers the only time Ovechkin scored, when he took a bounce off the back boards and beat Henrik Lundqvist on the power play in Game 1. Counting the playoffs and regular season, Washington was 20-3-2 when Ovechkin scored a goal and 10-19-1 when he didn't.
That's what being the MVP is all about, and he wasn't against New York. Defenseman Karl Alzner said candidly after the 5-0 Game 7 loss that for the Caps "it's hard to overcome" Ovechkin not producing like he did late in the regular season.
"We were very, very fortunate coming down the stretch that he was scoring almost every game," Alzner said. "Then playoffs is just a different animal, especially against these guys. … So you got to find ways to score and if he can't, then other guys have to find ways to score. If no one can, then this happens."
The Caps rely on Ovechkin for scoring perhaps more than any other team in the NHL leans on its star. He scored 21.5 percent of their regular-season goals, topping the percentage of fellow Hart finalist John Tavares of the New York Islanders (20.1 percent).
That Ovechkin scored 32 goals in 48 games was a testament to Oates' decision to move him to right wing and the patience to keep him there as things weren't working out. Ovechkin recalled talking to Steven Stamkos during the NHL lockout and the Tampa Bay Lightning star telling him he was going to love playing for Oates.
"Right now I understand why he said it, and I can see it," Ovechkin said. "It was a big reason why I step up in my game. I thought the beginning of the year when we [were] talking together we just don't know each other well. Just when the season goes, we start talking and we start [to] know each other better. Right now, I can tell [working with Oates] was probably one of the biggest reason to my success this year."
Considering his body of work, the position change and the Caps' run to the playoffs, Ovechkin enjoyed arguably his best season since scoring 56 in 2008-09. Is he a better player now than he was then, when he was piling up the hardware?