Arguably the biggest problem with last year's Marvel comics movie spectacular "The Avengers" was that it set the bar too high: Writer-director Joss Whedon's exuberant take on the superhero supergroup was so perfectly balanced in its combination of wit, pathos and giant-sized action scenes there was no chance any ensuing single-hero adventure would live up to the standard it set.
Mostly to its credit, "Iron Man 3" doesn't even try. Yes, it's a big summer movie with the requisite number of big explosions and big-budget effects. And yes, it's a superhero movie that delivers its quota of guys in brightly colored suits flying around punching superpowered bad guys.
But "Iron Man 3" is less a movie about the invincible Iron Man than a movie about the not-so-super Tony Stark, the billionaire playboy beneath the shiny metal shell. And it's at its best when it works in smaller scale, as an irreverent throwback action comedy.
That's hardly surprising given the background of the man newly in charge of the series: Shane Black, the whiz-kid screenwriter who in his mid-20s helped define 1980s action filmmaking with his script for the original "Lethal Weapon." Mr. Black's early scripts boasted ferocious action sequences and haunted leading men, but he lightened things with zippy dialogue and a subtle sense of self-awareness.
That makes him perfect for the Iron Man series, which has soared to success on the strength of Robert Downey Jr.'s wry and frequently hilarious portrayal of the title character and his alter ego. Now 51 years old, Mr. Black is no longer a kid, but he still manages to exude the combination of fierce energy and ironic distance that made his early scripts stand out. The collaboration between Mr. Black and Mr. Downey, whose ad-libbed asides pepper the movie, makes for the funniest Iron Man movie yet.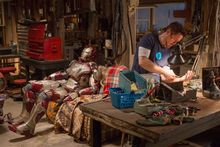 If the movie's quips and gags are its strongest component, its story is the weakest. Part of the problem is that the story tries to juggle far too much. Tony Stark finds himself facing off against Aldrich Killian (Guy Pearce), a rival inventor with a score to settle, as well as a terrorist menace known as the Mandarin (Ben Kingsley), who has been staging bombings in protest of American arrogance, or policy, or something. There are also a slew of superfluous subplots involving War Machine (Don Cheadle), Tony's live-in love, Pepper Potts (Gwyneth Paltrow) and his security chief, Happy Hogan (Jon Favreau, who directed the first two installments).
But in the end, it doesn't do quite enough. As the movie progresses, there are also a number of twists and turns, the best of which leads to one of the movie's most amusing scenes, but the Mandarin's villainous motivations never really add up. The movie's bad guys are there because Iron Man needs something to punch.
And pound away he does, especially as the movie draws to a close. The action sequences are suitably noisy, but also somewhat underpowered, especially as they grow larger. Like the rest of the movie, the action sequences are best when they stay small. The scale and scope of "The Avengers" may have made the argument that bigger is better. But "Iron Man 3" offers a reminder that even in a megabudget summer superhero movie, size isn't everything.
★★★
TITLE: "Iron Man 3"
CREDITS: Directed by Shane Black, screenplay by Mr. Black and Drew Pearce
RATING: PG-13 for sci-fi action violence and slightly naughty dialogue
RUNNING TIME: 130 minutes.
MAXIMUM RATING: FOUR STARS