As search and rescue teams combed Moore, Okla., for survivors of Monday's deadly twister, officials struggled to describe devastation that, even for a town in the heart of "Tornado Alley," is almost unimaginable.
Gov. Mary Fallin, who flew over the disaster area Tuesday, said it's far worse than other tornadoes that hit the state — even worse than the carnage from the Oklahoma City bombing in 1995. Oklahoma City Mayor Mick Cornett dubbed it "the storm of storms."
Lt. Gov. Todd Lamb said the storm resembled a "2-mile-wide lawnmower blade going over a community" that flattened schools, businesses and everything else in its path.
---
SEE ALSO: Napolitano to survey tornado response efforts Wednesday
---
The tornado, one of the deadliest in recent U.S. history, has claimed at least 24 lives, including those of nine children. More than 230 people have been injured.
Earlier reports claiming as many as 90 dead were erroneous.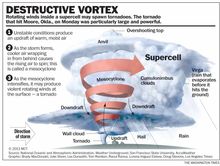 Moore Fire Chief Gary Bird told reporters Tuesday that he was confident no more bodies or survivors would be found in the rubble.
"I'm 98 percent sure we're good," he said, though he added that he hoped to conduct repeat searches of devastated buildings.
Whatever the number, it's just the latest such disaster to hit Moore, a town of about 56,000 a few miles south of Oklahoma City.
The community also was hit by major tornadoes in 1999 and 2003, though the destruction this time is much more widespread.
Those living in Tornado Alley — defined by the federal government as stretching from parts of Texas through the Great Plains up to parts of South Dakota and Minnesota — surely expect the occasional twister, but nothing of this magnitude.
"I don't think there's anything more that could've been done" to prepare, Moore City Manager Stephen Eddy told CNN.
Although officials stress the importance of having a plan and being ready to respond to storms quickly, the tornado struck amid a unique set of circumstances that made it almost impossible to anticipate.
Packing winds of more than 200 miles per hour, it was categorized as an EF5, the highest level on the National Weather Service's enhanced F-scale rating.
Worsening the storm's impact was the timing: It was on the ground for 40 minutes while children were at school.
"I think what made it such a tragedy is that it was a violent tornado that struck a highly populated area at a vulnerable part of the day," said Bill Bunting, chief of operations at the National Weather Service's Storm Prediction Center. "It comes down to, essentially, where does the storm go and when does it go there?"