Tornadoes ripping across Oklahoma left left 24 confirmed dead, including children, while as many as 91 are feared dead.
In the initial aftermath of the chaos, officials had confirmed 51 people had been killed. Authorities revised the number of confirmed dead down to 24 Tuesday morning, the Associated Press reported.
But the death toll may still spike, as local affiliate KFOR said 91 lives are feared lost.
---
SEE ALSO: Rep. James Lankford: 'Oklahomans watch out for Oklahomans'
---
More storms are expected, Fox News said. Twisters could touch down across Oklahoma and Arkansas on Tuesday, while flash flooding is emerging as a big threat in Arkansas, Texas and Louisiana, Fox News said.
Heading into Wednesday, the storms will go east into New York and Pennsylvania, with a slight chance for more rain, wind and lightning in Oklahoma and the Texas panhandle, Fox News said.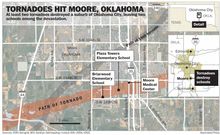 Disaster efforts were in full force in Moore, Okla., on Tuesday, as rescue workers sifted through the debris of a giant tornado that wiped out a community of 41,000, in Moore. Red Cross, National Guardsmen — all were on the scene, UPI reported.
---
SEE ALSO: Obama approves major disaster declaration for Oklahoma
---
Among the dead were as many as 20 children, with more feared dead. At least two elementary schools were devastated and a third collapsed, but all of those students were accounted for, with only slight injuries, said Oklahoma City's local television station, KWTV.
Two more schools were hit, Fox News reported on Tuesday morning. And dozens of third-graders are still unaccounted for, Fox News reported. Seventy children are in area hospitals for injuries, along with 145 adults.
"As long as we are here … we are going to hold out hope that we will find survivors," said Oklahoma Highway Patrol Trooper Betsy Randolph, in The Associated Press.