He was one of the game's greatest tacticians, equally at home on offense and defense in the most complicated situations. He was masterful at disarming a volatile, unpredictable opponent, and he held his own against the greatest players the game has ever known.
He also played chess pretty well.
Lothar Schmid, the elegant, well-coiffed German grandmaster who passed away over the weekend in his hometown of Dresden at the age of 85, was long one of his country's best players, a stalwart on the West German Olympiad teams and a runner-up in the World Correspondence Chess Championship in the 1950s. His resume includes victories at the board over such luminaries as Bogolyubov, Keres, Larsen and Soviet world champ Mikhail Botvinnik, and he owned one of the world's great private collections of chess books and paraphernalia.
But Schmid will be most widely remembered for his calm, forceful work as a match arbiter, stepping into the world spotlight as the umpire of the epic 1972 match between Bobby Fischer and Boris Spassky in Reykjavik. That the match, marked by delays, a Fischer forfeit and Cold War haggling by both sides over conditions, actually came off is a testament in large part to Schmid's patience and fortitude.
Schmid would serve as arbiter at some equally prickly encounters down the line, including the charged matches between Anatoly Karpov and Victor Korchnoi, Karpov and Garry Kasparov, and the controversial 1992 rematch between Fischer and Spassky in Serbia.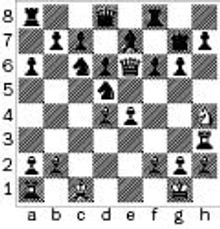 Schmid displayed a well-rounded approach at the board, strong in positional play but ready to attack when the situation demanded it. In an early correspondence game against fellow German Kurt Gumprich, Schmid exploits Black's clotted set-up in a Ruy Lopez Steinitz Defense to flood the zone with his pieces and chase down the Black king.
Black sets up the classic Ruy strong point at e5, but runs into trouble on 14. Nd5 Nc8?! (Bd7 15. Nxb6 cxb6 16. Bxd7 Qxd7 17. Be3 f5 18. d5 Na5 19. Bxb6 Nc4 was more dynamic) 15. Nh4 Bd7 16. Qg4 Bxe6 17. Qxe6 exd4 18. Rd1!, with the idea of a dangerous rook lift in lines such as 18…dxc3 [f5 19. Nxf5 dxc3 20. bxc3 Bf6 21. Rb1 and White is still better] 19. Ng6+! hxg6 20. Rd3 f5 21. Nxe7 Qxe7 22. Rh3+ Qh4 23. Qxh4 mate.
Black's cluttered pieces can't organize a defense of his beleaguered king: 20. Rd3! Kg7 (White had threatened 21. Nxg6+ hxg6 22. Rh3+ Kg7 23. Bh6+ Kh7 24. Bxf8 mate; if now 20…Rg8, then 21. Rh3 Qf8 22. Nf4 Qe8 23. Nfxg6+ Rxg6 [hxg6 24. Nf5 mate] 24. Nxg6+ Qxg6 25. d5 wins a piece) 21. Rh3 Nxd5 (see diagram) 22. Bh6+!, flushing the Black king into the open.
The denouement — 22…Kxh6 (Kh8 23. Nxg6+ hxg6 24. Bxf8 mate) 23. Nf5+ Kg5 24. exd5 Ne5 (gxf5 25. Qe2 Nxd4 26. f4+ Kxf4 27. Qe3+ Kg4 28. Qg3 mate) 25. f4+ Kxf4 26. Rf1+ Kg5 (Ke4 27. Re3 mate) 27. Rxh7 Qd7 28. Ne3 Nf3+ 29. Rxf3 Qxe6 30. h4 mate.
–
Congratulations to Russian GM Sergey Karjakin, who topped a world-class field to capture the first Norway Super Tournament with a 6-3 score. Favorite son GM Magnus Carlsen tied for second with America's Hikaru Nakamura a half-point back, and Indian world champion Viswanathan Anand — who will defend his title against Carlsen later this year — was tied for fourth at 5-4.
Chinese GM Wang Hao scored a nice double in the event, defeating Carlsen and Anand in successive rounds to put a serious dent in their hopes.
And Ukrainian GM Alexander Moiseenko is the new European individual champ, winning the title on tiebreaks last week at the giant Swiss event in Legnica, Poland. We'll have some action from both events in the coming weeks.
–
The U.S. men's championship, won by GM Gata Kamsky earlier this month, ended in an one-game "Armageddon" playoff between Kamsky and GM Alejandro Ramirez after nine tautly played rounds. But the most dramatic single game in St. Louis may have been the Round 3 encounter between IM Irina Krush and longtime rival IM Anna Zatonskih on the women's side.