A Florida man, who was fatally shot Wednesday by an FBI agent after he reportedly attacked the agent with a knife during questioning about the Boston Marathon bombing, implicated himself and bomber Tamerlan Tsarnaev in a 2011 Massachusetts triple murder, law enforcement authorities said.
The killings occurred during a drug deal that went wrong and after Tsarnaev and his Orlando, Fla., friend, Ibragim Todashev, became concerned that they could be identified, authorities said.
Authorities said Mr. Todashev confessed Wednesday during an earlier round of questioning by the FBI and others that he and Tsarnaev had played a role in the killing of three men — Brendan Mess, 25, Raphael Teken, 37, and Eric Weissman, 31 — in an apartment in Waltham, Mass. They said the men's throats had been cut and their bodies were covered with marijuana.
There had been no arrests in that case, but law enforcement officials suspected that Tsarnaev and his younger brother, Dzhokhar, were connected to the killings. Forensic evidence reportedly linked them to the site and cellphone records placed them in the area on the day of the killings, authorities said.
Records show Mr. Todashev also was arrested by Orlando police May 4 on charges of aggravated battery in connection with a fight in a parking lot.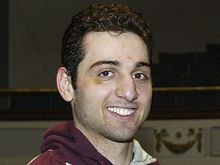 According to authorities, Mr. Todashev had been questioned earlier Wednesday by FBI agents, during which he had been cooperative, but he became violent later when asked to sign a written statement based on his confession.
FBI spokesman Paul Bresson said the agent was acting on an "imminent threat" when he shot Mr. Todashev, 27.
In a statement, the FBI said: "The agent, two Massachusetts State Police troopers, and other law enforcement personnel were interviewing an individual in connection with the Boston Marathon bombing investigation when a violent confrontation was initiated by the individual. During the confrontation, the individual was killed and the agent sustained non-life threatening injuries."
Mr. Todashev, an ethnic Chechen, was not a suspect in the Boston bombings, but law enforcement authorities said he had been in contact with Tamerlan Tsarnaev, had visited him in Boston, and was planning a trip to Chechnya. His interview was part of the ongoing marathon bombing investigation.
The FBI shooting took place in an apartment complex near Universal Studios.
Dzhokhar Tsarnaev, 19, was arrested in the Boston bombing and remains in federal custody at a prison medical center outside Boston awaiting trial. Three people were killed in the bombings and another 260 were injured. Tamerlan Tsarnaev died during a shootout with police three days after the bombings.
Khusn Taramiv, a friend of Mr. Todashev, told WESH-TV in Orlando that Mr. Todashev and Tsarnaev were friends with a mutual interest in fighting sports.
"Back when [Mr. Todashev] used to live in Boston, they used to hang out — not hang out — he knew him. They met a few times because [Mr. Todashev] was a MMA fighter and [Tsarnaev] was a boxer. They just knew each other. That's it," Mr. Taramiv told the television station.
Mr. Taramiv also said Mr. Todashev last spoke with Tsarnaev via phone or Skype a week or perhaps a month before the April 15 Boston bombings, but the call only lasted about five minutes and had nothing to do with the marathon attack.
In the May 4 arrest, records at the Orange County Sheriff's Office show Mr. Todashev was arrested for aggravated battery after getting into a fight over a parking spot with another man. He was booked into jail but released the next day on a $3,500 surety bond.