ANALYSIS/OPINION:
With apologies to Jerry Lee Lewis, we're going to alter a line from his great song, "Whole Lotta Shakin' Goin' On."
This past week has been marked by a whole lotta stupid goin' on.
---
SEE ALSO: Nationals not where they want to be, but no major changes envisioned
---
The subtitle? "Just shut up. Please."
Where do we even begin? Let's go local and discuss Nationals reliever Rafael Soriano. His shirt-untuck move after he saves a game is pretty cool. His lip flapping after a blown save — and, yeah, it probably wasn't his fault — is not quite as cool.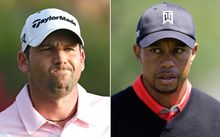 The Nats lost 4-2 in San Francisco on Tuesday after taking a 2-1 lead into the ninth. With two outs, a Gregor Blanco triple drove in the tying run. Nats wunderkind Bryce Harper probably could have caught the ball. Harper was honest enough to acknowledge as much, along with the fact that a crash into the wall earlier in Los Angeles was weighing on his mind. Harper told reporters he put "that whole loss on me." Admirable, if not quite true.
Soriano, meanwhile, essentially told a reporter from USA Today, in Spanish, that his 4-year-old son could make that play.
While we media types may soak in these types of comments and run with them, they're not what a team struggling to stop spinning its wheels needs. Soriano at least didn't claim he didn't make the comments. He said he thought it was fuera de acta (we think that means off the record in Spanish), that he wasn't trying to criticize Harper. They talked later and, both said, patched things up.
All well and good. Still a stupid thing to say.
Harper scored both runs in a 2-1, 10-inning victory over the Giants on Wednesday (saved by Soriano). He hit a home run for the first, hit a double and later scored for the second. Even if you accept his "whole loss on me" thing from Tuesday, Harper is going to win a lot more games for the Nats than he is going to lose. He is their megastar, their meal ticket.
It's never a good idea to insult a teammate publicly, in any language. It's even dumber when that teammate has the stature of Bryce Harper.
While Soriano's comments rank pretty high on the local stupid scale, the worldwide leader has to be golfer Sergio Garcia. He has some sort of feud going on with Tiger Woods and he made a crack this week about Woods and fried chicken.
Really? So you're an idiot and a racist?
Woods has done nothing over the past couple of years to make himself a sympathetic figure, yet he looks like royalty when compared to Garcia.
On the course, Garcia needs a telescope to see Woods. Even if he never wins another major, Woods remains perhaps the best in the game currently and pretty much the best ever. You need several pages to list his big accomplishments. You could fit Garcia's on the back of a postage stamp and still have some room.