President Obama said last week that he wants a reset on the war on terrorism, but Republicans said Sunday that his plan sounds more like a retreat.
Sen. Lindsey Graham, South Carolina Republican, said threats to national security from the Middle East have increased. He cited the use of chemical weapons in Syria's civil war and Iran's push for nuclear weapons.
"At a time when we need resolve the most, we're sounding retreat," Mr. Graham, who sits on the Senate Armed Services Committee, said on "Fox News Sunday." "We show this lack of resolve, talking about the war being over. What do you think the Iranians are thinking? At the end of the day, this is the most tone-deaf president I ever could imagine."
In a Thursday speech at the National Defense University, the president said the al Qaeda terrorists are "on the path to defeat." He outlined a strategy that replaces the global war on terrorism with a "series of persistent targeted efforts to dismantle specific networks of violent extremists."
Former House Speaker Newt Gingrich called the president's move to change strategies on terrorism "stunningly, breathtakingly naive."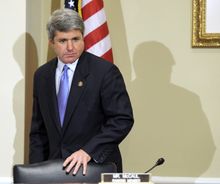 Sen. Richard J. Durbin, Illinois Democrat, praised the president for trying to balance the demands of national security abroad with the need to protect civil liberties at home.
"You just find in a warlike atmosphere that you end up compromising some basic values and basic freedoms and liberties. That's what the president reminded us [of]," said Mr. Durbin. "I'm not going to take lightly the terrorism threat against the United States, but if we're constantly thinking about this as war, we stand a very real risk of doing things that compromise our values and freedoms."
Republicans argued that Middle Eastern terrorist groups have shown no inclination to call for a truce in their fight against the West.
"The rhetoric sort of defies the reality on the threat level we've been briefed on," Rep. Michael T. McCaul, the Texas Republican who chairs the House Homeland Security Committee, said on CNN's "State of the Union." "I couldn't disagree with him more."
Mr. McCaul agreed that Thursday's speech was "the most significant foreign policy address given by the president," but added that he found many parts "disturbing."
Mr. Obama also laid out some rules of using drone strikes against military targets after he was criticized for using drones in 2011 to kill an American citizen in Yemen. The rules pleased Sen. Rand Paul, Kentucky Republican and a vociferous critic of the administration's use of drones.
"I was pleased with his words, and I was pleased with the — that he did respond to this," Mr. Paul said on ABC's "This Week." "However, there still is a question in my mind of what he thinks due process is. You know, due process to most of us is a court of law, it's a trial by a jury. And right now their process is him looking at some flashcards and a PowerPoint presentation on 'Terror Tuesdays' in the White House. For a lot of us, that's not really due process."
Mr. Paul continued to press for charging U.S. citizens with treason if they are involved with terrorist groups, noting that the death penalty "has been used repeatedly throughout our history for treason, but a judge looks at evidence [first]."
"If you are conspiring to attack America and you are a traitor, I would try you for treason," Mr. Paul said. "If you don't come home for the trial, I would try you in absentia."
On the other hand, Mr. Graham said, he worried that with the drone strategy, "we're diminishing our national security infrastructure."