It seems fitting that on Memorial Day weekend, the Washington Nationals had their own version of a memorial day.
As in: Remember when things mostly went how they were supposed to go? And when they didn't, they still worked out?
That was the case Sunday as the Nationals whipped the Phillies 6-1 behind another dominant start from Stephen Strasburg, a couple of timely hits and a couple of breaks. When the Phillies made mistakes, the Nationals took full advantage.
"The last two starts, that's the best we've seen him since he's been here," shortstop Ian Desmond said of Strasburg, who struck out nine in eight innings.
The news, however, even in victory, wasn't all good.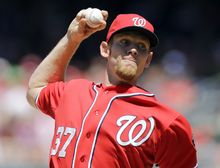 Ross Detwiler, who left his previous start 11 days ago with a slight oblique strain, was due to start again Tuesday. But the left-hander had a setback Sunday and is headed to the disabled list.
Another lefty, Xavier Cedeno, has been recalled. No word yet on who will make that Tuesday start.
Also, outfielder Bryce Harper's banged-up knee had him moving gingerly, and he came out of the game in favor of pinch-runner Roger Bernadina in the seventh. Manager Davey Johnson said he wants Harper to stop sliding head-first and that Harper would probably sit a couple of days. Harper said he doesn't think sliding feet-first will make a difference and he doesn't plan to sit. OK, then. Stay tuned.
But on the field, all was well. Strasburg was in command and the Nats seemed to make good on every mistake the Phillies made. It could have been a Throwback Day if they had worn their uniforms from last season, when games like this became the norm.
"Things are starting to unfold," Desmond said. "We're playing better defense, we're pitching better, the bats are starting to come around. We're getting those lucky drops every once in a while. That's what we need. You have to play good, crisp baseball to put pressure on other teams. When you do that, things like that happen."
Washington broke open a scoreless game with a five-run seventh that had a little bit of everything. Ryan Zimmerman opened it by legging out an infield hit, emphatically clapping his hands as he crossed the base safe. Adam LaRoche followed with a sharp single. Desmond sacrificed them up a base.
After Tyler Moore walked to load the bases, backup catcher Jhonatan Solano hit a dribbler close to the mound. Third baseman Michael Young's throw got away from catcher Humberto Quintero. Two runs scored.
Steve Lombardozzi then doubled in two more.
"A couple of weeks ago, they probably would have turned a double play on that swinging bunt by Solano, somehow, some way," Desmond said.
But not Sunday, and the way Strasburg was throwing five runs were plenty. His only run allowed came on a balk in the eighth inning. After pitching counterpart Cole Hamels singled in the third, Strasburg retired the next 10. Twice he stuck out the Phils' 4-5-6 hitters in the same inning.