A roadside bomb in Afghanistan took his right eye, crushed the side of his face and left him dealing with serious brain injuries. A six-string guitar and an innovative music therapy program at the Walter Reed National Military Medical Center are playing key roles in leading him on the road to recovery.
Marine Josh Cawthorn, a former high school soccer star from Hendersonville, N.C., said the MusiCorps program at Walter Reed and the mental therapy of mastering a musical instrument are critical to his rehabilitation.
MusiCorps teaches troops wounded in battle how to play piano, guitar and other instruments, often with adjustments to accommodate their prosthetic arms and legs.
"It's not just music. I owe 99 percent of my recovery to MusiCorps because it's the best therapy that anybody can get," said Mr. Cawthorn, 22, who suffered his injuries while on patrol in June 2011.
"I could think about the day I got hurt and all the stuff that happened that day and be miserable and depressed, or I could play my guitar," he said. "There have been times I've played my guitar for 20 hours a day. Sometimes, I don't sleep, so I just play my guitar and it keeps me calm. I can zone out on everything and just do that."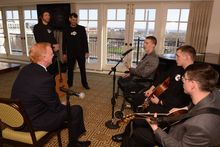 MusiCorps founder Arthur Bloom, a composer whose work has been played by such ensembles as the Israel Chamber Orchestra and the Tulsa Philharmonic, can recall many more success stories since the program began in 2007.
For the past six years, Mr. Bloom and his staff of professional musicians have taught hundreds of wounded soldiers how to play instruments, write songs and arrange music. In addition to the joy of performing and the revived sense of mastery, research on patients suggests, music instruction and performance are linked with lower rates of depression, greater mental agility and reduced reliance on painkillers and other drugs.
The program received a major boost last summer when it won a grant from the Bob Woodruff Foundation, co-founded by the ABC News anchor who was severely wounded in January 2006 while reporting in Iraq, that makes it possible for the wounded warriors to travel and perform across the country.
This Memorial Day weekend, MusiCorps performers are in Kansas City, Mo.
Taking it seriously
MusiCorps isn't just a "superficial sing-a-long," as Mr. Bloom put it. The soldiers take it seriously.
"We rehearse, we learn, we play," he said. "All of the professional musicians who come here to teach are blown away at how good the wounded warriors get at music."
The MusiCorps website (musicorps.net) features a remarkable video of former Marine Cpl. Todd Love of Acworth, Ga., who lost his left arm and both legs in Afghanistan two years ago. Seated at a baby grand piano, he plays the famous recital piece "Solfeggietto" by C.P.E. Bach. His prosthetic left arm supplies an occasional bass note as his right hand dances over the higher keys.
"He played the piano as a kid," Mr. Bloom said. "He didn't think he'd be able to play again, but we worked with him and now he's even better than he used to be."
Cpl. Love now can play piano better one-handed than many amateur musicians can play with two hands. He has moved on from Walter Reed, but, like many other wounded soldiers, he said MusiCorps helped him get through one of the most difficult parts of his life.