For years they'd played this series with manufactured fanfare. The "Battle of the Beltways," they called it. But it was usually little more than an interleague diversion for two teams on a path to losing records. Monday, it was different.
When the Washington Nationals lost 6-2 to the Baltimore Orioles in their Memorial Day matinee, it was a loss by one 2012 playoff team to another. And it mattered plenty for both.
For the Orioles (28-23), it was one more game above .500 and another victory to keep pace near the top of the difficult American League East.
---
SEE ALSO: Nationals promote Nate Karns to start Tuesday, make major league debut
---
For the Nationals (26-25), it was one more loss as their wildly inconsistent start to the season dragged on. Another loss in which their pitching wasn't as good as it's expected to be — and their offense, scattering eight hits but going 2-for-11 with runners in scoring position, failed again.
"That's been kind of our M.O.," said Nationals manager Davey Johnson as he ticked off the few positives he could find from the day.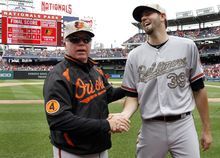 Tyler Moore hit an RBI double. Roger Bernadina crushed a double of his own. Ryan Zimmerman had two more hits to bring his average up to .278 on the season and .313 in the month of May.
"We're showing signs of coming out of it," Johnson said. "Hopefully."
The Nationals Park seats, filled with a sold-out crowd of 41,260, were dotted with red and orange. When things went well for the Orioles, there was more than just a dull roar. When things went well for the Nationals, the cheers were larger still.
There just wasn't much for the Nationals fans to cheer as Gio Gonzalez was tagged with four earned runs off eight hits and four walks in 5 2/3 innings, and Jason Hammel constantly kept the Nationals from putting together a big inning.
"I'm not going to be perfect," said Gonzalez, who entered the game averaging just under seven innings in his first four starts of the month with a 1.67 ERA. "I felt like I was in the zone, I felt like I was attacking them.
"That's a good-hitting team. When they needed to be patient, they were patient and when they needed to be aggressive, they were aggressive. They found hits, that's what matters."
The Orioles entered the series carrying 12 blown saves, the most in the major leagues. And their save percentage, at 59, was the seventh-lowest. The key, it seems, is to get into their bullpen — one of their strengths during their magical 2012 season run — and the game can change.
But against Hammel, who entered with a 5.37 ERA, the Nationals could never get there. Because of Hammel's heavy use of his fastball and his propensity for throwing strikes, the Nationals struggled to work his pitch count. They did not force him to expend extra energy.
Hammel pitched eight innings, allowed only two runs and needed just 107 pitches to do it. He walked none and struck out eight.
The Orioles' beleaguered bullpen largely sat and watched before Darren O'Day tossed a scoreless ninth.