As the rich get richer, demand for luxury items continues to rise.
Makers of high-end products have emerged from the global recession stronger than before, thanks to a growing customer base of the wealthy and superwealthy who are more willing than ever to pay premium prices for top-of-the-line brands.
With new customers in China and other thriving economies in Asia, the luxury sector posted more than a 25 percent gain in 2012 — and growth this year, while slower, is still expected to top 11 percent.
---
SEE ALSO: Consumers regain confidence from improving job, housing markets
---
Even Europe, mired in a yearslong slowdown, has maintained its appetite for expensive jewelry, clothing and cars.
"The luxury market has held on remarkably well since the beginning of the crisis," said Jacob Funk Kirkegaard, a research fellow at the Peterson Institute for International Economics, a Washington think tank that focuses on European economic issues. "Not only are the existing consumers not hurt by the crisis, but there is also a new group of consumers in emerging economies."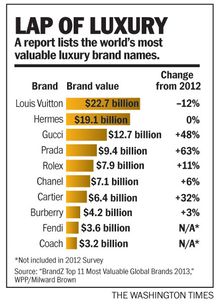 Shares in Michael Kors Holdings Ltd., a high-end clothing company based in the U.S., are up nearly $10, or 18 percent on the year.
Swatch Group AG, a Swiss watchmaker, is up 16 percent.
Compagnie Financiere Richemont SA, a Swiss company that owns several luxury companies, is up 25 percent.
Stock in Italy's Fiat, maker of the Lamborghini, has risen nearly 50 percent since Jan. 1.
On Tuesday, upscale jeweler Tiffany & Co. became the latest luxury stock to exceed investor expectations. The company had a terrific first quarter, posting earnings of $83.6 million, or 65 cents a share, which was up from the $81.5 million, or 64 cents a share, from the same period last year.
The positive earnings came from sales growth. Revenue climbed 9.3 percent to $895.4 million for the period ending April 30, beating Thomson Reuters analysts' expectations of $855.1 million.
The news sent the stock soaring, up $3, or 4 percent, to close Tuesday at $79.22. The stock is up more than $20, or 36 percent, from the beginning of the year.
Sales increased 6 percent in the Americas, but the real growth was in China, where profits rose 14 percent.
Tiffany plans to open four stores in China this year, bringing the total to 26 stores in that country by the end of the year.
China and other emerging markets in Asia have contributed to much of the growth in the luxury sector over the past few years as "newly minted millionaires" look for ways to spend their money, said Vikram Mansharamani, a lecturer at Yale University.