ANALYSIS/OPINION:
Wanting to win and wanting to play led Tomas Vokoun to Washington in the summer of 2011. Devoid of other quality options, signing with the Capitals gave the veteran goaltender what he believed was a chance at winning a Stanley Cup.
A groin injury kept him from finishing the 2011-12 season and kept him from even being on the bench for the playoffs. When Vokoun had his pick of destinations last summer, he chose the Pittsburgh Penguins, even as a backup, because a championship had eluded him.
---
SEE ALSO: Jaromir Jagr, at 41, gears up to face Penguins
---
Now he's eight wins away as Pittsburgh moves into the Eastern Conference finals against the Boston Bruins. He's not riding the pine as Marc-Andre Fleury does the job; the 36-year-old is between the pipes living out the chance he never got with the Capitals.
No one expects Capitals fans to root for Pittsburgh, but Vokoun's emergence is the best story the mega-talented, high-powered Penguins have going for them.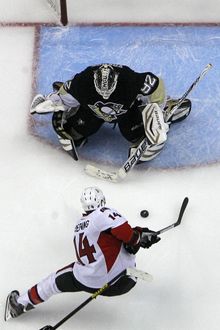 "You hear about guys like Ray Bourque and everyone else that have worked their entire careers to get that opportunity, and it happens for a reason because I think the team rallies around it a little bit," analyst Justin Goldman of The Goalie Guild said.
"I'm sure there are guys on the Penguins that are seeing Tomas Vokoun doing what he's doing right now, coming off the bench and saying, 'Fleury's got a Cup, Vokoun's the guy right now. We want to get him his Cup. We're going to work hard for him.'"
Vokoun's working for them, too. Since replacing the ineffective Fleury for Game 5 of the Eastern Conference quarterfinals against the New York Islanders, he's 6-1 with a 1.85 goals-against average and .941 save percentage, helping the Penguins breeze past the Ottawa Senators in the process.
Vokoun hasn't had to be dominant, just good enough to keep from losing games as Sidney Crosby, Evgeni Malkin, Kris Letang and Co. take care of the rest. He hasn't always looked confident and secure in the crease, and Goldman even called his style a little "sloppy."
But, unlike Fleury, Vokoun hasn't cost the Penguins by imploding and giving up bad goals.
"I think it's just a different mental approach," Goldman said. "When he does face that quality scoring chance, whether it's a limited number or more scoring chances than usual in a higher-scoring game, he always seems to make that timely save."
That was Vokoun's biggest challenge after joining the Capitals. Accustomed to a heavy workload with the lowly Florida Panthers, he had to adjust to facing fewer shots and making stops when cold.
Before even playing a regular-season game for Washington, Vokoun was relieved that he wouldn't have to win games 1-0 too often, given the offensive weapons in front of him. He won 25 games for the Capitals and put up numbers in line with his career average, but the first groin injury of his long NHL career kept him from just his third postseason.
In eight seasons with the Nashville Predators, Vokoun appeared in just 11 playoff games. Leading the league with a .939 save percentage in 2004 didn't get him out of the first round, and until May 9, he went six years between playing in the playoffs.
In between, he played 316 regular-season games, mostly for the Panthers, and was generally overlooked when considering the better goaltenders in the league. But his international experience, leading the Czech Republic to world championship gold medals in 2005 and 2010 and an Olympic bronze in 2006, showed Vokoun was capable of coming up clutch.