Bill Hamid normally doesn't like watching from the sidelines. Despises it, really. That much he's always made clear.
But when Hamid was among several regulars benched for D.C. United's 2-1 loss at FC Dallas on May 11, the 22-year-old goalkeeper decided to embrace the time off. Watch and learn, he thought. No sense in pouting.
"It just got my head right," Hamid said. "We were taking a lot of heat, the defense, for a few games — for a bunch of games. A couple of us got to sit back and relax a little bit and watch. And it felt good."
When Hamid returned to the lineup a week later, he delivered a standout performance, pulling out five saves as United snapped a seven-game losing streak with a 1-1 draw against Sporting Kansas City.
While United have had few positives this season en route to a 1-9-2 record, Hamid amid some youthful errors still has produced his fair share of memorable moments — enough, at least, to earn him a call-up to the U.S. national team for its friendly against three-time World Cup champion Germany on Sunday at RFK Stadium.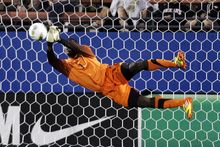 "Bill kept us in so many games early on we just had no business being in," United midfielder Chris Pontius said. "If it's mentally wearing on him, he's not letting it affect him in a negative way."
Since making his only international appearance in a January 2012 friendly, Hamid has seen inconsistency drop him on the U.S. depth chart. With the flashy saves come some lapses in judgment he's quick to acknowledge.
U.S. coach Jurgen Klinsmann, however, still calls Hamid and 23-year-old Chicago Fire shot-stopper Sean Johnson "our future goalkeepers that we monitor, that we nurture, that we help in their development," noting that the national team coaches "want to always keep them connected to us."
"It's important that these guys know if they have a couple of bad games, they're not suddenly out of the picture," Klinsmann added. "We want to show our goalies like Billy that they're young, they have talent, that they need to go through this process of up and downs."
Serving as the third-string goalkeeper behind English Premier League stalwarts Tim Howard and Brad Guzan, Hamid is unlikely to see the field Sunday as the Americans play their final tune-up match before World Cup qualifiers against Jamaica, Panama and Honduras.
Yet that hasn't stopped the Annandale native from needing to field more than a dozen ticket requests. And he'll nonetheless relish the opportunity to spend a few days training with the veterans in front of him, as well as goalkeeper coach Chris Woods, who holds the same position with EPL club Everton FC.
"It means the world to be a part of the national team, to represent your country, to play amongst those players," Hamid said. "I cherish every moment with them. Like every other camp that I've been to, I try to pick up at least three or four things that I continue using here at the club, whether it be helping teammates, whether it be my technique, whether it be the way I talk."
Although United will miss Hamid when they travel to face the Fire (2-7-2) without him Sunday, coach Ben Olsen is optimistic Hamid's time in national team camp will prove beneficial to the club in the long run.
"Camps are hit or miss on how guys come back," said Olsen, a 2006 World Cup veteran who played 37 times for the U.S. national team. "Some guys can handle them mentally; some guys come back and lose their focus a little bit. But Bill seems to be able to handle that pretty well and come back and elevate his level here."
While he won't be a part of the upcoming World Cup qualifiers, he remains in the mix for the Gold Cup, July's biennial championship for North America, Central America and the Caribbean that Klinsmann has said will feature a younger roster.