BALTIMORE — Perhaps it's strange for Davey Johnson now, as he glances around Oriole Park at Camden Yards on a steamy May afternoon that felt like so many before it in this ballpark. If there was ever a place for the Washington Nationals manager to feel at home, this is probably it.
But now, as the 70-year-old visits for the Nationals' only trip here this season, there are statues out in left-center field of so many of his friends, teammates and players. Brooks Robinson. Frank Robinson. Eddie Murray. Jim Palmer. Cal Ripken. Even Earl Weaver.
They're enshrined. He's still in the dugout.
And for a moment Wednesday afternoon, as he navigated his way into the B&O Warehouse and through his pal Rick Dempsey's restaurant, the thought crossed his mind.
Is this the last series he will ever manage in Baltimore?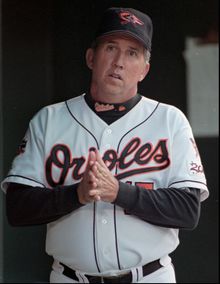 "I hope it's not," Johnson said as his Nationals prepared for the second half of their home-and-home series with the Orioles. "I hope we come back here and beat the pants off of them in the playoffs."
Johnson's history with this city and the Orioles is a complex one. His playing career here brought him three All-Star selections, three Gold Gloves and two World Series rings. His managerial tenure was electric and exciting, but ended poorly.
He has said often that he will always be an Oriole, at least at heart.
"I always love coming to Baltimore," he said. "My kids were born here, I played baseball here with the likes of Brooks Robinson, Boog Powell, a guy named Frank Robinson. Played under Weaver. I've got a lot of fond memories going all the way back to 33rd Street.
"Coming here to manage was a lot of fun. We had some things go against us in the playoffs. A check swing one time, a 12-year-old kid another time. But other than that, I love coming to Baltimore and I hope it's not my last time."
Things change, of course.
This is Johnson's first trip here since Weaver died this winter. He thought about him Wednesday, too.
"I always think about Earl," Johnson said. "Whether I'm thinking about golf and how many shots I had to give him or when I think about the way he used to yell at some rookies, or kick dirt on umpires. I tried to use all the things I've learned from him.
"I remember getting kicked out of my first game and them saying, 'That Earl Weaver [stuff] isn't going to work over here in the National League.' But he was a great manager and a good friend and he's sadly missed."
Maybe Thursday, he said, he'll take a stroll out to the public park beyond the bullpens where the statues sit. Maybe it'll be his last game here. Maybe he'll be back.