Maru Montero left for the United States from her home in Oaxaca, Mexico, with just one pair of dance shoes.
It was a sacrifice for the lead dancer of the famed Ballet Folklorico de Mexico. But, decades later, she has her own dance company and she directs the National Cinco de Mayo Festival, which marked its 21st annual celebration of Hispanic culture on the Mall on Sunday.
"It was a need that made us into who we are," said Ms. Montero, as she paused for a few quiet moments before drums and flutes called the dancers to the stage.
Twenty years ago, Ms. Montero's Columbia Heights-based dance company would get a few requests from area schools to come dance, but that quickly grew into a full-fledged festival.
On Sunday, the celebration sprawled between two large white tents set up near the Smithsonian Castle. The loud beat of drums beckoned curious passers-by to the dancing stage, while a long line of hungry patrons waited beneath wafting smoke for their grilled carne asada, chickenand chorizo.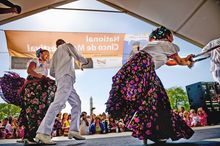 The afternoon event included a range of music and dancing from local and visiting performers. Some wore bright turquoise robes and feathered headdresses, while other dancers wore little more than black loin cloths and paint on their chests.
Christine MacDonald, managing director of Hola Cultura, said she was not surprised at the turnout.
The U.S. Census Bureau shows that the District's Hispanic-origin population increased by more than 15,000 between 2000 and 2012 to about 60,000.
"There is a big [Hispanic] community here," Ms. MacDonald said. "You have kids who grow up here, the community prospers and those kids have children they want to introduce to their culture."
As he waited for his three children to take the stage, 44-year-old Celerino Cruz said this year's festival was the first time he and his family attended.,
"We were excited about this year," said Mr. Cruz, who emigrated to the area from Mexico 17 years ago. "My children just started dancing. We wanted to show our kids their heritage."
Watching her 5-year-old son Daniel kicking a soccer ball on the outskirts of the crowd, 49-year-old Jackie Walker said her family makes the trip down to the Mall each year for the festival, but this year stood out because "there were so many strides this year in terms of immigration issues and licensing.
"It's a good time for celebration in the community," she said.