With Republican candidate Mark Sanford surging ahead in Tuesday's special congressional election in South Carolina, the party is increasingly hopeful it can avoid an embarrassing defeat in a district that analysts said it should have been able to hold easily.
The race has been characterized in the national press by celebrity and notoriety — Mr. Sanford became infamous for an affair while he was the state's governor, while Democrat Elizabeth Colbert Busch is the sister of a TV comic.
But for voters, the key question appears to be how many of the district's conservative-leaning voters can hold their noses and vote for Mr. Sanford in order to keep the more liberal Mrs. Colbert Busch from office.
---
SEE ALSO: Mark Sanford: 'One event does not define your life'
---
"There is a very real chance this race could go to the Democrats," Gibbs Knotts, chairman of the political science department at South Carolina's College of Charleston. "Sanford does come with considerable baggage."
"The folks who look at this [race] and study this really don't know for sure which way it's going to go."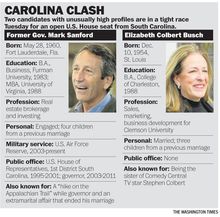 Mr. Sanford suffers from money problems, as the National Republican Congressional Committee has pulled its support. An embarrassing trespassing complaint filed against him by his former wife gave a boost to his Democratic opponent.
But the former governor's campaign began to take a turn for the better last week when he received endorsements from several key Republicans — including South Carolina's two Republican U.S. senators. He also has picked up financial support thanks to appeals from outside groups, including tea party organizations.
On Sunday, a poll by the Democratic firm Public Policy Polling showed the race has become a tossup, with Mr. Sanford ahead by 47 percent to 46 percent. Two weeks ago, PPP had Mr. Sanford trailing by 9 percentage points.
"Colbert Busch could certainly still win this race. Sanford remains unpopular, and she's run a strong campaign," the poll said. "But we said two weeks ago that if Sanford was going to win, he needed to shift the focus away from him and toward Barack Obama and [House Minority Leader] Nancy Pelosi, and it appears he's done that effectively enough to give him the momentum headed into Election Day."
Indeed, that has been the key to Mr. Sanford's campaign in recent days On Monday, he tried to tie his opponent to President Obama's health care law, which is unpopular in the state.
"When Washington Democrats pushed through Obamacare, Nancy Pelosi remarked that to see what was in it, lawmakers would need to vote for it," Sanford campaign spokesman Joel Sawyer said. "Now Elizabeth Colbert Busch tells Lowcountry voters that they should vote for her, before she announces her stance on issues like repealing Obamacare."
Mrs. Colbert Busch, sister of TV comedian and political satirist Stephen Colbert, counters by pointing to her outreach efforts to voters and holds herself out as "a representative who they can trust."
"I'm so excited to spend the final days of this campaign one-on-one with as many people as I can," she said in touting her bus tour.
For Republicans in Washington, the race is tricky.
The party establishment mostly has shunned Mr. Sanford, who quietly finished his second term as governor early last year before stepping down. If he won Tuesday, his re-entry into the House Republican Conference — 12 years after a three-term stint in the chamber — likely would be met with equally cold shoulders by House party leaders.