NEW YORK — When coach John Tortorella said Wednesday that goaltender Henrik Lundqvist meant "everything" to the New York Rangers, even that seemed like an understatement. No one player was more important to getting the Rangers into the Stanley Cup playoffs than the Vezina Trophy finalist.
"He's the backbone of our club," Tortorella said.
He's also the player with the best chance to change the complexion of a playoff series, something the Washington Capitals know all too well. As the Eastern Conference quarterfinals go on, the Caps continue to evolve in their understanding of how difficult it is to beat Lundqvist.
---
SEE ALSO: Capitals notes: Brooks Laich back on ice after sports hernia surgery
---
"It's tough to beat him anywhere," defenseman Mike Green said. "I think that the quicker you can get a shot off with him, the better chance you'll have. As soon as he gets position on you, 9 times out of 10 he makes the save. So we've got to move the puck laterally and make sure that he can't get over quick enough for our shots."
Even seeing Lundqvist in the postseason three of the past four years and enjoying some success against the 31-year-old didn't unlock too many secrets. What the Caps know is that it's not just about getting a lot of shots on net because he can shrug them off.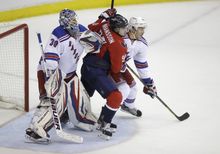 "He's a top goalie, and you can see how he play right now, especially in Game 2 when we have lots of chances on him," captain Alex Ovechkin said. "You just have to find lots of traffic, maybe find the rebound. It can't be clear shot. It have to be like somebody stand in front of the net because if he gonna see the puck, he gonna save it."
That's the book on Lundqvist, and it's one way the Caps scored goals early in the series: generate traffic and use screens. That's not even a perfect formula because the veteran netminder's positioning and instincts allow him to make stops even when he doesn't see the puck.
"He plays deep in his net, so it gives him an extra second to make that save or come across," defenseman Karl Alzner said. "He's obviously smart. He knows how to read the play and usually where the pucks are going to come from."
It doesn't help the Caps that New York is a shot-blocking team that likes to clog shooting lanes and cause frustration in the offensive zone. Coupled with Lundqvist's abilities, it's a difficult set of problems to overcome.
"Their team is based around him. They play to his strengths," Caps goaltender Braden Holtby said. "Obviously, everyone knows how talented he is. But, just like [Game 3], we did a good job putting traffic in front of him. Like the old saying, everybody hates traffic and backdoor tap-ins. If we can do that, we're doing a great job offensively, and the goals will come."
When the Caps scored three goals in Game 3, they figured it should have been enough but lost 4-3.
"We should be able to win that game," right wing Troy Brouwer said. "Goals are hard to come by. … When we do score three goals, we have to be able to get a win out of it. There's not too many where you're going to be able to get three or more goals by him."
The onus is on Caps players to continue to find ways to beat Lundqvist because he rarely if ever beats himself. Unlike Marc-Andre Fleury, who has hurt his Pittsburgh Penguins with soft goals in their series with the New York Islanders, Lundqvist is a strength for the Rangers.
Lundqvist takes pride in continuing to improve, even while tying for the league lead with 24 victories during the regular season.
"For me, it was important to ask myself the right questions during the season," he said. "We were not winning as much but I have to look at my game: 'Am I doing the right thing here? Do I need to change something?' Even though it's a team sport, it's about what I'm doing. I have to look at myself, and when I'm doing my best I'm going to help the team to do well."