SAN FRANCISCO — A 72-foot-long, high-tech catamaran sailboat capsized Thursday in San Francisco Bay while practicing for the America's Cup races this summer, killing an Olympic gold medalist from England and injuring another sailor, authorities said.
Artemis Racing said Andrew "Bart" Simpson died after the capsized boat's platform trapped him underwater for about 10 minutes shortly after 1 p.m. Artemis and two other yacht teams each outfitted with multimillion-dollar racing boats that can achieve speeds of 45 mph are challenging defending champions Oracle Racing for the America's Cup, sailing's most prestigious trophy.
Simpson, 36, served as the Swedish team's strategist.
Artemis said doctors "afloat" with the team and on shore were unable to revive Simpson after he was freed from the wreckage. The other sailor suffered minor injuries, and the rest of the crew of about a dozen was accounted for and taken back to their dock in Alameda.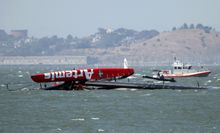 "The entire Artemis team is devastated by what happened," CEO Paul Cayard said in a statement posted on the team's website. "Our heartfelt condolences are with Andrew's wife and family."
Officials said winds were blowing between 15 and 20 knots when the boat capsized. The National Weather Service later in the day issued a small-craft advisory, warning inexperienced mariners to stay off the bay and indicating winds of between 21 knots and 33 knots.
The Artemis boat flipped in winds of about 20 knots near Treasure Island, which is bisected by the Oakland-San Francisco Bay Bridge. The armada of rescue boats and helicopters were visible from the bridge.
Simpson and the unidentified injured sailor were brought to shore as the St. Francis Yacht Club in San Francisco, where paramedics performed CPR on Simpson. He was pronounced dead a short time later.
This is the second time a sailor has died during training for the America's Cup. In 1999, Martin Wizner of the Spanish Challenge died almost instantly when he was hit in the head by a broken piece of equipment.
No deaths have been recorded during the actual racing since its inception in 1851.
Simpson and his partner Iain Percy won an Olympic gold medal for England in 2008 in the so-called Star class of sailing. The duo was expected to repeat in London in 2012 but was upset by a Swedish team and settled for silver.
Percy is Artemis' director and the boat's tactician. Artemis announced on Feb. 23 that Simpson was joining the team to "provide weather and tactics support" to the crew.
A month later, Simpson tweeted: "Moving the family to San Fran for 6 months is pretty hectic!!! The cup should be fun though!!"
Artemis has had its share of upheaval in the buildup to the 34th America's Cup. Late last year, skipper Terry Huthinson of Annapolis, Md., was released. He was replaced by Nathan Outteridge of Australia, who won a gold medal at the London Olympics.