The Detroit Tigers rolled into Washington this week, having steamrolled all comers in their previous 10 games. Good teams, bad teams, mediocre teams, it seemed to matter little to the reigning American League champions. Their lineup is perhaps the most feared in the game, their rotation is stacked with talent. They are in many ways what the Washington Nationals are built to become.
The series, delayed one day by a rainout, left time to ponder the question of whether this matchup of preseason World Series favorites might present itself again on a cold night in late October.
The Tigers were playing well enough early to warrant the hype, but the Nationals were still feeling their way out of an inconsistent April and were eager to prove that they stacked up.
Two games later, with a sweep of the abbreviated series capped by a 5-4 Nationals victory, there was perhaps only more fuel for the postseason prediction fire.
"That's a really good team over there," third baseman Ryan Zimmerman said. "I don't think anyone would be surprised if they were coming out of that league or if they're in there until the end."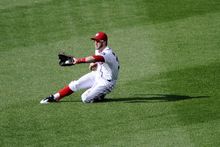 "They're built for the playoffs just like we are," said Tigers catcher Alex Avila. "I thought the last two games were really good games. It'll be interesting to see how the rest of the season goes for the both of us."
Both teams brushed off any talk of the World Series, even though they knew what the oddsmakers said.
Such discussion only matters "if we both win," Avila said.
"It's too early for me to even think about that stuff," added Nationals manager Davey Johnson.
But maybe they will.
The Nationals' victory was their sixth in the past seven games as they improved to 19-15.
Their defense has been cleaner. Their offense, often dormant in the first month of the season, has shown signs of emergence and is averaging more than 3 ½ runs per game in May. Their pitching is getting more consistent.
They're finally playing the way they promised they could when they tried to explain an April that included more losses than victories.
"I think everyone in this room will tell you that we didn't play great baseball at the beginning of the season," said Zimmerman, who combined with Adam LaRoche for five hits on the day — perhaps the most positive signs for the Nationals in a series filled with them.
"Defensively we were sloppy, offensively we were very inconsistent. Even the pitchers weren't that great at the beginning. But you're going to go through things like that in a season and when it happens at the beginning, obviously it's a little more glaring than if it were to happen in July or August."