LOS ANGELES — A man carrying a bag with a hand-written note that said he "wanted to kill TSA" opened fire with a semi-automatic rifle at a security checkpoint at Los Angeles International Airport on Friday, killing a TSA officer and wounding at least three others, authorities said.
The gunman, wounded in a shootout with police, was taken into custody, authorities said. The Transportation Safety Administration officer was the first killed in the line of duty in the 12-year history of the agency, which was founded in the aftermath of the Sept. 11, 2001 terrorist attacks.
The attack sent terrified travelers running for cover and disrupted flights from coast to coast, authorities said.
A law enforcement official said the suspect, Paul Ciancia, 23, from Pennsville, N.J., was wearing fatigues and carrying a bag containing the hand-written note. The official was briefed at LAX on the investigation and requested anonymity because was he was not authorized to speak publicly.
A second law enforcement official confirmed the identity, also speaking on condition of anonymity because he was not authorized to discuss the investigation publicly.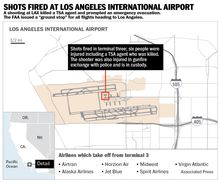 Pennsville Chief Allen Cummings said Paul Ciancia's father called him early Friday afternoon saying another of his children had received a text message from the suspect "in reference to him taking his own life." Cummings said the elder Ciancia asked him for help in locating Paul, according to Cummings.
The chief said he called Los Angeles police, which sent a patrol car to Ciancia's apartment. There, two roommates said they had seen him Thursday and that he was fine.
Cummings said he told Ciancia's father that because of the son's age, he couldn't take a missing persons report. He said Ciancia's father owns an auto body shop. He says they are a "good family" and that his department had no dealings with the younger Paul Ciancia.
Los Angeles Airport Police Chief Patrick Gannon said that around 9:20 a.m., the gunman pulled what he described as an "assault rifle" from a bag and began firing inside Terminal 3. He then went to the security screening area, where he fired more shots and went into the secure area of the terminal, Gannon said.
Officers exchanged fire with the gunman and apprehended him; police believe he was the only shooter, Gannon said.
"As you can imagine, a large amount of chaos took place in this entire incident," he said.
As gunshots rang out, panicked fliers dropped to the ground. Those who had made it past security fled onto the tarmac or sought cover inside restaurants and lounges.
"We just hit the deck. Everybody in the line hit the floor and shots just continued," said Xavier Savant, who was waiting in the security line where the shooting occurred. He described it as a "Bam! Bam! Bam!" burst of gunfire.
Savant said the shots subsided and people bolted through the metal detectors and ran into the terminal, eventually making their way out to the tarmac.
"My whole thing was to get away from him," said Savant, an advertising creative director who was heading to New York with his family for a weekend trip.