It just recorded the highest trade surplus in its history, but Germany may find it difficult to celebrate the milestone as Berlin faces growing criticism that the country's prosperity is coming at the expense of its European neighbors and the health of the global economy.
Fresh off a public scolding from the Obama administration that its trade surpluses were slowing the recovery from the Great Recession and the EU's currency crisis, Germany's Federal Statistical Office reported Friday that exports increased in September from the previous month to a new record high. Exports were up 1.7 percent to $124 billion on an adjusted basis, while imports fell 1.9 percent to $99 billion.
That leaves Germany with more than a $25 billion surplus, up from $21 billion in August — a surplus that is larger than even that of China's.
Most countries would consider this good news, but instead Germany faces growing fire in recent weeks for its large trade imbalance.
A widely-noted October report from the Obama administration's Treasury Department bluntly said Germany's expanding trade surplus is taking up too big of a piece in the European pie, which is holding back the economies of struggling fellow European Union countries such as Greece and Portugal.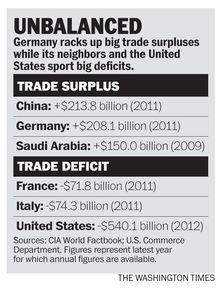 The International Monetary Fund joined the U.S. in criticizing Germany for its large surplus. A "significantly smaller" trade surplus "would be useful," IMF Deputy Managing Director David Lipton — a former top U.S. Treasury official — said in a speech last week in Berlin.
And EU officials in Brussels piled on Monday, with Economics and Monetary Affairs Commissioner Olli Rehn penning an editorial in a leading German newspaper saying the bloc's executive arm will look into German trade and economic policies.
"This week the [European Commission] will have to decide whether a deeper analysis is warranted for Germany," Mr. Rehn wrote in the Frankfurter Allgemeine Zeitung. "Such an examination should be no taboo. That would help neither Germany nor Europe."
For its part, Germany has fiercely defended its right to export successes around the world, but Friday's numbers are bound to add fuel to the argument that what's good for Germany may not necessarily be good for the rest of Europe.
"The Germans are bleeding everyone else dry," said Jackson Janes, president of the American Institute for Contemporary German Studies.
The Treasury Department threw the first stone in its report late last month that claimed Germany's export-led strategy is inhibiting other European countries from growing. But if Germany were to lower its trade surplus by boosting domestic demand and increasing its appetite for imports, the argument grows, struggling countries such as Greece and Spain would have a better chance to rebuild their economies.
But German officials have shot back. The economics minister even suggested that the U.S. government, which is more than $16 trillion in debt, should try to build its own surplus, saying his country's surplus is "a sign of the competitiveness of the German economy and global demand for quality products from Germany."
"There are no imbalances in Germany which require a correction of our growth-friendly economic and fiscal policy," added German Finance Ministry spokesman Martin Kotthaus.
But critics say Germany is taking advantage of the rigid currency values of the eurozone to keep its export sectors humming. Typically, a country's currency would appreciate with a large trade surplus, making its exports less competitive and products from other countries more price-competitive. But with Greece, Italy and Spain using the same currency as Germany, the rebalancing isn't taking place.
Many in Germany increasingly see the U.S. as a sore loser in the global trade game, noting that President Obama has set a goal to double American exports by 2015. So why shouldn't they do the same thing?