Former President George W. Bush said that he really doesn't miss being in office and that his older brother, former Florida Gov. Jeb Bush, should run for president — if he wants to.
Mr. Bush and his wife, former first lady Laura Bush, appeared on "The Tonight Show" with Jay Leno in an episode that aired Tuesday night.
"I really don't miss the spotlight," the 43rd president said. "It's hard for some to believe, but I think eight years of the spotlight's enough."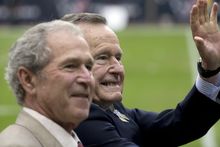 Mr. Leno remarked that the former president does look more relaxed.
"No kiddin,'" Mr. Bush said, laughing. "Duh."
Mr. Bush said he's comfortable with the fact that it's going to take some time for history to judge the decisions he made during his eight years in office.
"I read some biographies on Washington," he said. "My attitude is [if] they're still writin' biographies on the first guy, the 43rd guy doesn't need to worry about it."
Speculation about who might run on the Republican side to succeed President Obama has included talk of Jeb Bush.
Former first lady Barbara Bush said she doesn't want Jeb to run despite being eminently qualified, saying earlier in the year that the country has had enough Bushes. President George H.W. Bush ("41," as Mr. Bush called him during the interview) served as president from 1989 to 1993.
Mrs. Bush's comments came around the time the George W. Bush Presidential Library and Museum at Southern Methodist University in Dallas was opened.
"I was surprised she even answered the question," Mr. Bush said. "This is the woman who when I was getting ready to run against Gov. Ann Richards in Texas — I called her and said, 'Hey, Mom, I'm going to to run against Gov. Richards.' Long pause; she said, 'You can't win.'"
"I mean, Jeb should run for president if he wants to — he'd be a great president," Mr. Bush continued.
Mr. Bush, who has taken up painting in his retirement, gave Mr. Leno a portrait he had painted of the comedian.