Norway's Magnus Carlsen is the new world chess champion, dethroning Indian titleholder Viswanathan Anand with a draw in the 10th game of their scheduled 12-game match in Chennai, India, Friday.
Mr. Carlsen, 22, who has long been the world's highest-rated player, become the first Norwegian to hold the crown and the second youngest undisputed champion ever behind Russian Garry Kasparov.
He's also claimed international headlines for breakout beyond the insular world of chess — even appearing as a model.
Mr. Anand, 43, has held the chess crown since 2007 and is a sporting hero in his country. He had successfully defended the title in three previous matches, but proved no match for his implacable younger rival in the match's critical moments.
Endgames blunders by the champion cost him critical points in Games 5 and 6, and a one-move oversight in a tense attacking battle in Game 9 all but sealed Mr. Anand's fate. The final match score was 6½-3½ in Mr. Carlsen's favor — with three wins and seven draws.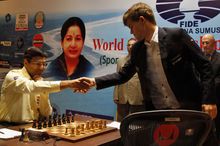 Mr. Anand in his postgame comments pointed to Game 5 as the match's psychological turning point, a devastating endgame loss after four draws to open the match. Mr. Carlsen told reporters that Game 3 and 4 had been crucial for him, as he survived uncomfortable moments and realized "my opponent was just as nervous as I was."
Mr. Anand pressed in Game 10 against the Norwegian's Sicilian Defense, taking a slight edge into a knight-and-pawn ending. After both players obtained a new queen, Mr. Anand had three pawns and a queen to Mr. Carlsen's queen and knight.
Black found a forcing variation to trade off all of the pieces, leaving the two players with just their kings for a 65-move draw. The game took just over five hours to play.
Mr. Carlsen will have to defend his new crown in just a year's time. A candidates' tournament is set for March in the Russian city of Khanty-Mansiysk to determine his challenger.
Anand-Carlsen, Game 10, World Championship Match, Chennai, India, November 2013
1. e4 c5 2. Nf3 d6 3. Bb5+ Nd7 4. d4 cxd4 5. Qxd4 a6 6. Bxd7+ Bxd7 7. c4 Nf6 8. Bg5 e6 9. Nc3 Be7 10. O-OBc6 11. Qd3 O-O 12. Nd4 Rc8 13. b3 Qc7 14. Nxc6 Qxc6 15. Rac1 h6 16. Be3 Nd7 17. Bd4 Rfd8 18. h3 Qc719. Rfd1 Qa5 20. Qd2 Kf8 21. Qb2 Kg8 22. a4 Qh5 23. Ne2 Bf6 24. Rc3 Bxd4 25. Rxd4 Qe5 26. Qd2 Nf6 27. Re3 Rd7 28. a5 Qg5 29. e5 Ne8 30. exd6 Rc6 31. f4 Qd8 32. Red3 Rcxd6 33. Rxd6 Rxd6 34. Rxd6 Qxd6 35. Qxd6 Nxd6 36. Kf2 Kf8 37. Ke3 Ke7 38. Kd4 Kd7 39. Kc5 Kc7 40. Nc3 Nf5 41. Ne4 Ne3 42. g3 f5 43. Nd6 g544. Ne8+ Kd7 45. Nf6+ Ke7 46. Ng8+ Kf8 47. Nxh6 gxf4 48. gxf4 Kg7 49. Nxf5+ exf5 50. Kb6 Ng2 51. Kxb7Nxf4 52. Kxa6 Ne6 53. Kb6 f4 54. a6 f3 55. a7 f2 56. a8=Q f1=Q 57. Qd5 Qe1 58. Qd6 Qe3+ 59. Ka6 Nc5+ 60. Kb5 Nxb3 61. Qc7+ Kh6 62. Qb6+ Qxb6+ 63. Kxb6 Kh5 64. h4 Kxh4 65. c5 Nxc5 draw agreed.