Investigations into the U.S. Secret Service sexual misconduct scandal have been undercut by resistance from a key Democratic senator, missteps by her Republican counterpart and nepotism allegations against an embattled inspector general, according to congressional and government sources.
In an exclusive interview with The Washington Times last week, Carlton Mann, chief operating officer of the Department of Homeland Security's inspector general's office, said Sen. Ron Johnson of Wisconsin, ranking Republican on the Senate Homeland Security subcommittee on contracting oversight, leaked confidential information about the service's 2012 prostitution scandal in Cartagena, Colombia, involving alleged prostitute Dania Suarez, and then accused the office of caving to political influence and altering its reports.
Deputy Inspector General Charles K. Edwards, who heads the office but has never been confirmed, has had to fend off calls for his resignation related, in part, to separate allegations that he abused agency resources and hired his wife.
New revelations about a Secret Service agent's sexual misconduct surfaced earlier this month, compounding the service's prostitution scandal. But Sen. Claire McCaskill, who heads the Homeland Security subcommittee, has instructed investigators to shut down a probe of the service and there are reports that Homeland Security officials influenced Mr. Edwards to water down an audit of the service's internal review protocols, sources familiar with the investigation say.
According to sources, Ms. McCaskill is urging investigators, led by a Johnson staffer, to focus on the personal allegations against Mr. Edwards, whose office is still putting the final touches on a separate "culture report" on the Secret Service.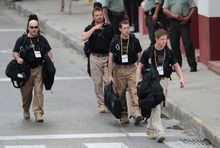 At stake is not just Mr. Edwards' reputation but the reputations of his office and the Secret Service, which has been cast as a cloistered boys club with nebulous standards of conduct and accountability in the fallout from the Cartagena scandal.
Recently, the senators took the unusual step of calling for Mr. Edwards to resign before they had completed their own work.
After an agent who led the Secret Service's Cartagena review was removed this month from President Obama's security detail for "sexting" a female subordinate, Mr. Johnson blasted the Secret Service and suggested the inspector general office's "culture report" would not be thorough.
But after investigating for months, a conclusive report from the Senate panel on the Secret Service appears unlikely without the approval of Ms. McCaskill.
Mr. Johnson and his staff have been aggressive to the point of losing the confidence of their peers, including Sen. Thomas R. Carper of Delaware, Democratic chairman of the Senate Homeland Security and Governmental Affairs Committee, according to a congressional source. Mr. Carper's office declined to comment for this story and Mr. Johnson and Ms. McCaskill did not respond to questions sent by email.
Demands for accountability
Mr. Edwards has not always helped his own cause, sources say, but Mr. Mann maintains the deputy IG has not been treated fairly.
When the Cartagena scandal broke, a half-dozen congressional committees demanded answers and accountability, but none of them completed an investigation. After hearing about scores of instances of alleged sexual misconduct, former Sen. Joe Lieberman, Connecticut independent and Republican Sen. Susan M. Collins of Maine instructed the inspector general to conduct an independent investigation.
In a departure from protocol, Mr. Edwards briefed Senate staff in late 2012 on a Report of Investigation (ROI), a report by criminal investigators that ordinarily is limited to Cabinet-level review. Mr. Mann said that Mr. Johnson was the only one to leak details of "law enforcement-sensitive" documents, which drew a rebuke from Mr. Lieberman.
The Secret Service also conducted its own internal probe, which auditors with the inspector general's office evaluated for procedural compliance. According to Mr. Mann, the auditors were neither trained nor expected to investigate misconduct or reach any investigative findings. The office released the auditors' report in January.