It was all but certain just over a month ago that the New York Giants were headed for one of their worst seasons in franchise history. They began the year with a six-game losing streak for the first time since 1976, and their problems seemed too numerous for a simple fix.
One by one, the Giants began to identify, and isolate, those issues: too many turnovers, an inability to run the ball and injuries on the offensive line. Now, they head into Sunday's game against the Washington Redskins on a clear upward trend with four wins in five games – something the Redskins, who have lost their last three and stand at 3-8 for the second time in three seasons, can't say about themselves.
"We haven't really played anywhere near good enough to get to the winner's circle, and that's been the issue, so we have to do that," Giants coach Tom Coughlin said. "We have to raise the level of our performance, raise the level of our execution, stop the foolishness in terms of turnovers and giving the ball away. But the No. 1 thing was the fact that we were still practicing well and the effort was good, and so when those things are the case and you know your coaches are working hard and your players are working hard, it's a matter of time before you snap out of it."
---
SEE ALSO: Washington Redskins vs. New York Giants: 5 Questions
---
The Giants committed a league-leading 24 turnovers through the first six games, which was two more than they had all of last season. Quarterback Eli Manning threw 15 interceptions, matching his total from a year ago, and threw at least three interceptions in four games during that skid.
Since a 23-7 victory over the Minnesota Vikings on Oct. 21, Manning has been steadier. He's thrown just two interceptions in the last five games – one each in victories over the Oakland Raiders and Green Bay Packers – and the Giants have committed only six turnovers as a team.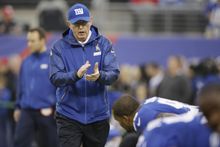 "I think we've played smarter football and not having the turnovers, not having penalties and as many negative plays as we were having those first weeks," Manning said. "We're starting to play better football – more sound and running the ball better. I think those have been some big differences in these past weeks."
The Giants have been inconsistent running the ball over the last several years; they won the Super Bowl after the 2007 season with the fourth-ranked rushing offense, but won it after the 2011 season with the worst in the league.
Having some semblance of stability in the backfield has also helped over the past month. In the wake of season-ending injuries to Da'Rel Scott and David Wilson, a first-round pick last year who has had issues with ball security, Andre Brown has established himself as the team's leading rusher. The running game also has been amplified with the return of Brandon Jacobs, the addition of Peyton Hillis and the development of seventh-round draft pick Michael Cox.
"They're all power runners," said Redskins defensive end Jarvis Jenkins. "They're all downhill runners, kind of similar to [San Francisco 49ers running back] Frank Gore. You've got Brown, and ever since he's been starting, they've been averaging 4.6 yards per carry. That's what the Giants do. They want to run the ball. They want to be balanced.
"I can honestly say that when they were going through that little losing streak, they couldn't really find a solid back to find solid yards, and these last couple games they've been winning, they've been rushing the ball."
One problem the Giants haven't been able to resolve this season: the stability of their offensive line. Only left tackle Will Beatty and right tackle Justin Pugh, a rookie, have played in all 11 games this season.
The interior of their line has been in chaos; six players have been shuffled in and out at each of the three positions, and center Jim Cordle, who started the last 10 games, strained the patellar tendon in his left knee on Sunday and was placed on injured reserve this week. Two other linemen – David Baas and Chris Snee – also are done for the season.
"They had some issues up front early, and I think they corrected those," Redskins defensive coordinator Jim Haslett said. "[Manning is] getting much better protection, so he's not really forcing the ball."
Coughlin, the Giants' coach since 2004, didn't waver earlier this year in the face of the team's issues. His fallback was the familiarity with his players – a group that had won at least eight games in all but his first season.
"I just think that you start out with a good group of people, you know the character of those people," Coughlin said. "We've obviously been through a lot together here with the leaders of this team. I believe in those guys, they believe in us, and the idea was that we stay together and fight our way through adversity and no one points a finger. We're in it together as a team."