"Panda candy" — that's what the National Zoo's bamboo procurement team told Christian Ostermann he was growing in his yard.
Though more difficult to harvest than the other two kinds of bamboo growing on the 48-year-old's Fort Washington property, the "panda candy" was a valuable find. True to its nickname, the bamboo is useful when the zoo's giant pandas are sick or acting stubborn about their meals.
And in an area where jungles of bamboo are absent, the zoo's nutrition team needs all the help it can get keeping two of the District's most discerning palates well fed.
---
SEE ALSO: National Zoo's female giant panda cub finally gets a name: Bao Bao
---
"The bamboo never stops," senior animal nutritionist Michael Maslanka said.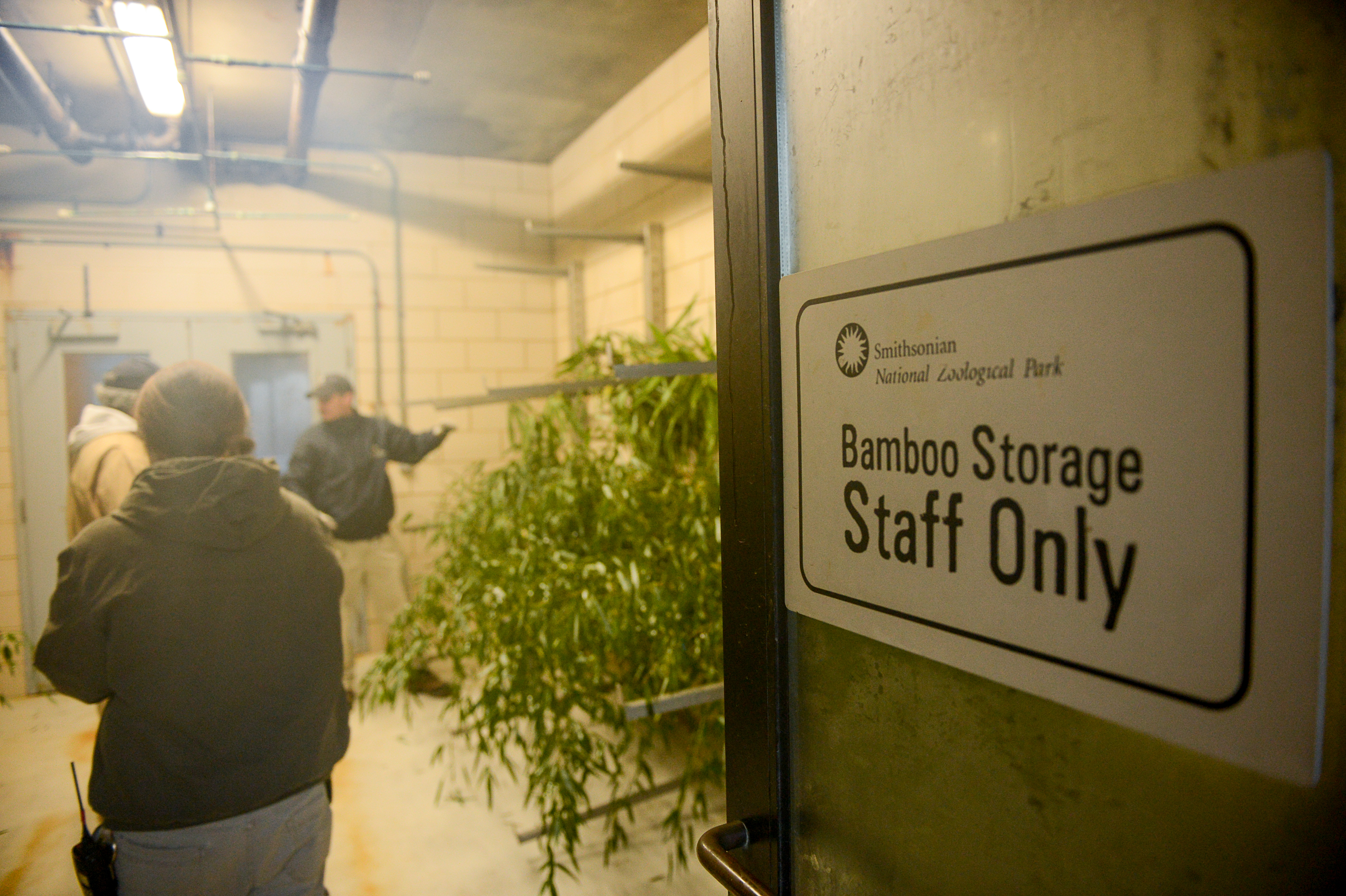 The National Zoo's giant pandas Tian Tian and Mei Xiang combined eat as much as 150 pounds of bamboo every day, and the amount required will only grow as Mei Xiang's female cub gets older and is weened off milk. The cub is set to celebrate her 100-day-old birthday Sunday, the traditional milestone for panda names to be announced.
---
SEE ALSO: For zoos with pandas, getting bamboo presents unique challenge
---
To meet that daily quota of bamboo, a team of 10 nutritionists shares the responsibility of harvesting bamboo from one of the zoo's roughly 15 sites around the D.C. area.
Mr. Maslanka, 42, said the sites run the gamut for location and the length of time the zoo has been harvesting there, but they all have a few things in common.
"We typically source from sites that are more than one acre," he said. "We want to make sure we can go back and harvest. Ideally we want a lifelong relationship."
Despite the massive quantities of bamboo the zoo's pandas require, the supply can be quickly replenished thanks to the plant's rapid growth rate — up to 2 feet per day, according to zoo officials.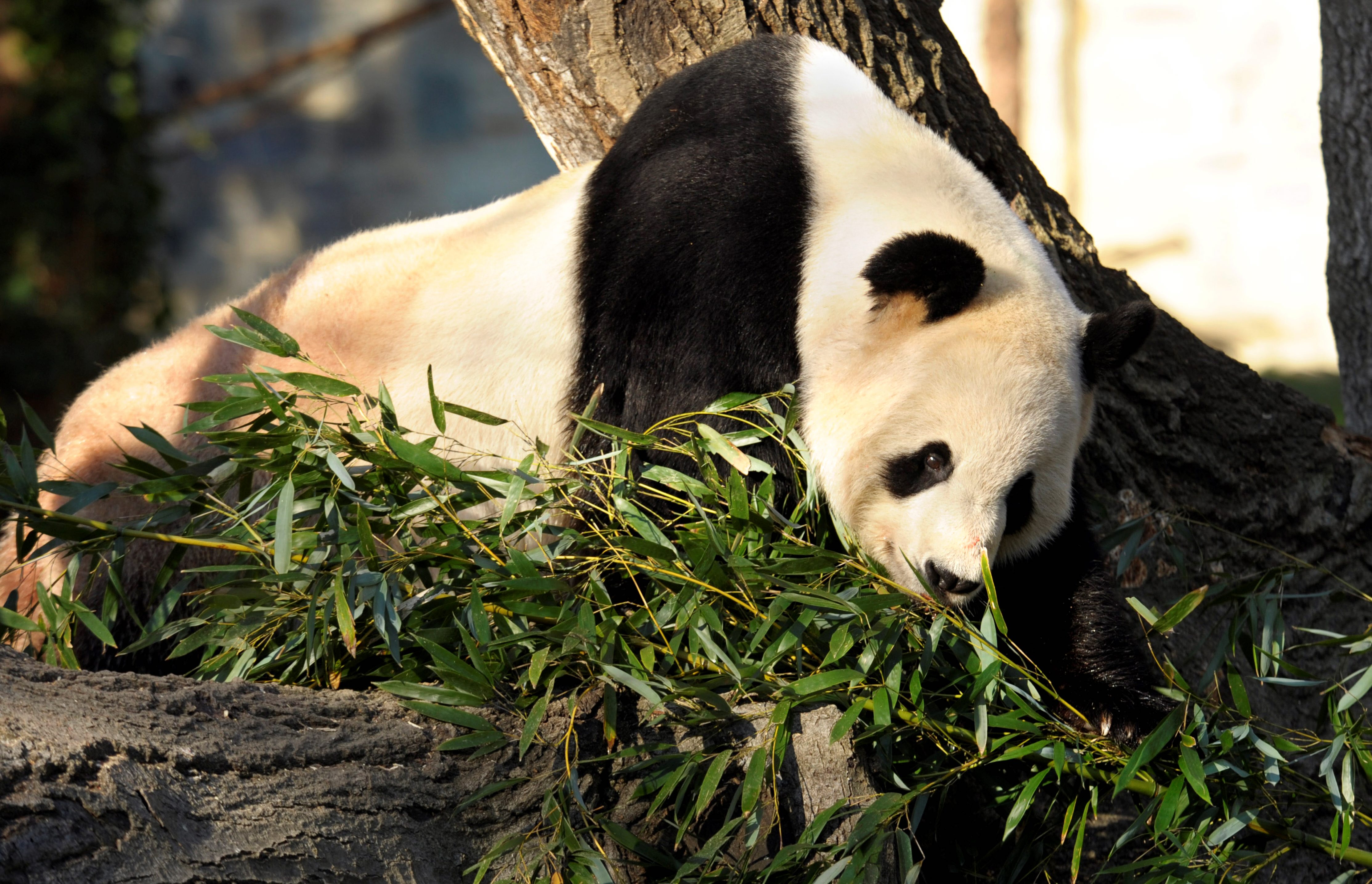 The National Zoo's bamboo procurement team rotates its site visits to avoid overharvesting and also relies on an off-site facility in Front Royal, Va., that boasts "acres and acres" of bamboo, Mr. Maslanka said.
Some sites are in private yards like Mr. Ostermann's property, while another is along the Potomac River. Bamboo grows near one of the bridges leading into the District, while other sites are in Poolesville and Mitchellville. The zoo itself has 53 varieties of bamboo growing on the property that can be harvested when weather prevents the crew from traveling, but not just any bamboo is suitable for the animals. Potential harvesting sites are tested for toxins and contaminants.
"It's similar to working with insulation," said Eric Smith, animal keeper and bamboo procurement team member. "The leaves, fibers — it's itchy. The stalks themselves, they're really dense. It's physically taxing. It's fascinating stuff, though."