The Georgetown socialite charged with killing his elderly wife has asked a judge to throw out his case because of the way prosecutors handled evidence, court records show.
A motion to dismiss filed in D.C. Superior Court on behalf of Albrecht Muth, 49, states prosecutors failed to "preserve critical items of evidence" that might prove his innocence, and his case should either be thrown out or the jury at his December trial be informed that evidence has disappeared.
Mr. Muth called police on Aug. 12, 2011, to the couple's Georgetown row house, where he said he had found his 91-year-old Viola Drath unconscious on a bathroom floor. Her death was initially treated as the result of a robbery gone wrong, but police turned their investigation to Mr. Muth, who had given Drath's family a letter dated April 11, 2011, within days of her death, stating he was to collect $150,000 in the event of her death.
Mr. Muth's lawyers argued in court that the prosecution referred to "several pages" of a letter presented to the Drath family by Mr. Muth but only handed over a one-page letter to the defense.
"In a sworn document one of the detectives in this case indicated [the letter] contained several pages," court records state. "The government has offered nothing to counter this sworn information but their 'belief' that the remaining pages do not exist."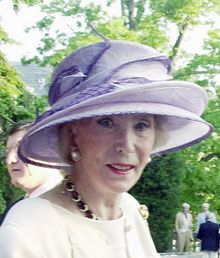 Over the course of this year, Mr. Muth's counsel requested the additional pages and received only the one page of the document.
The motion is the latest is a long line of unusual requests and bizarre behavior from the defendant, who is on record saying his wife's death was the result of a botched assassination attempt on him by Iranian agents.
Since his arrest two years ago, Mr. Muth has started and stopped several hunger strikes, which on occasion have left him too weak to be present at his court appearances. He also claimed to have communicated with angels and has tried to fire his public defenders and represent himself.
Neighbors said prior to his arrest that Mr. Muth was seen wandering the neighborhood streets in Georgetown dressed in a tan, custom-made, military-style uniform and puffing on a cigar. He had often claimed to be a secret agent and a staff brigadier general with the Iraqi army.