RICHMOND — Early turnout on Election Day was brisk, with elections officials reporting few issues Tuesday amid signs that as voter participation could eclipse 2009 rates despite a governor's race that's become infamous for its negativity.
State Board of Elections Secretary Donald Palmer told reporters that aside from some small issues with electronic poll books in Loudoun County that are being dealt with, things were proceeding smoothly throughout the state Tuesday morning.
In Northern Virginia, it was a busy scene at the Cora Kelly Recreation Center in Alexandria. Children heading to the adjoining elementary school passed at least a dozen signs for various candidates and races.
---
SEE ALSO: Ken Cuccinelli: Tea-leaf reading is for the pundits
---
A poll worker inside said by about 10 a.m., 600 people had voted at the center — a surprisingly high number for a non-presidential year.
"I don't know the cause, but it may be that it's not just an election with a bunch of delegates," he said.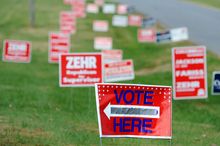 Women's issues encouraged Gilbert Teasley to vote at the Democratic-dominated precinct.
---
SEE ALSO: A side of Cuccinelli voters don't get to see; reluctant politician fan of 'Rapper's Delight'
---
"I always vote, but especially this one I thought was really important," the 63-year-old said of the race between Democrat Terry McAuliffe and Republican Kenneth T. Cuccinelli II. "McAuliffe might not be the best candidate, but he can kinda get us headed in the right direction."
Tyrone Harmon, 74, said he also voted for Mr. McAuliffe because "he can lead us on the right path." "I've been a registered voter for a long time, and I make it a point to vote every time," he said.
In Richmond, Gov. Bob McDonnell emerged from the Main Library on East Franklin Street to tell reporters he voted for the GOP ticket of Mr. Cuccinelli for governor, E.W. Jackson for lieutenant governor, and state Sen. Mark Obenshain for attorney general.
Mr. Jackson is running against Democratic state Sen. Ralph Northam of Norfolk and Mr. Obenshain is running against Democratic state Sen. Mark Herring of Loudoun. Public polls have shown Mr. McAuliffe and Mr. Northam with clear leads and the attorney general's race effectively a toss-up.
"I'm hopeful that they will win. I think we've got a good get-out-the-vote effort, and I think especially with the smaller turnout, the energy and enthusiasm of the base Republicans and Libertarians is going to be significant, so I'm still hopeful that despite what some of the polls have said that we will prevail today," Mr. McDonnell said.
Mr. Cuccinelli, who cast his own ballot Tuesday morning, said he was still making calls to undecided voters and that reading tea leaves on any broader implications for the race is best left to the professional prognosticators.
The Republican is casting his race against Mr. McAuliffe, who also voted Tuesday morning, as a referendum on President Obama's health care overhaul, and said on MSNBC's "The Daily Rundown" that the focus has crystalized recently because HealthCare.gov went live for people to start signing up for health insurance through exchanges on Oct. 1.
But what would it mean for Obamacare should Mr. Cuccinelli lose, asked host Chuck Todd?
"You know, Chuck, I kind of leave that to pundits like you," Mr. Cuccinelli said. "My job is really just to make the contrast."