On Saturday night, long after the dishes were cleared off the dinner table and team meetings were adjourned, some members of the Washington Redskins' coaching staff returned to their hotel rooms and continued crafting their game plans.
They weren't preparing for the San Diego Chargers game, which loomed the next day. It was the plan for the following game, against the Minnesota Vikings, with which coaches were more concerned.
That game, a nationally televised "Thursday Night Football" showdown, will be only the 14th time in franchise history the Redskins have played on a Thursday, and it will be the first time in over five years that they'll play on a Thursday night.
---
SEE ALSO: Washington Redskins at Minnesota Vikings: 5 Questions
---
The league expanded its Thursday night package, which is televised on NFL Network, to a season-long slate prior to last season. This year, all 32 teams have been scheduled to make one appearance on Thursday night.
According to the network, television ratings have been setting records all season, with an average of 7.78 million viewers tuning in through nine weeks — an increase of 12 percent from a year ago. The league has been so pleased with the growing audience, according to some reports, that the idea has even been tossed around of adding a second Thursday night game each week.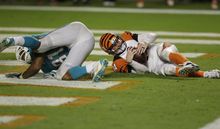 But at what cost? The games haven't been as crisp as their Sunday counterparts — including the one last week, in which the Miami Dolphins defeated the Cincinnati Bengals 22-20 in overtime on a safety.
That's partly a product of the modified game plan, which has forced coaches to reallocate their time and effort around existing schedules, and the health of the players, who are asked to play two games in five days.
When asked Tuesday if he considers the NFL's insistence upon playing games on a Thursday to be counterintuitive to its push for player safety, Redskins coach Mike Shanahan was frank.
"Yes," Shanahan said, "but I don't want to get into it, obviously."
He should know. Entering his fifth Thursday game in eight years, Shanahan was one of the first coaches to recognize its challenges when, in 2006, his Denver Broncos were scheduled to face the Kansas City Chiefs on Thanksgiving.
Longtime Chiefs owner Lamar Hunt had repeatedly asked the league for the opportunity to host a Thanksgiving game, and it finally obliged that year by putting the game in primetime on its own television network.
Thus began a slate of games that, for six years, began in mid-November and finished out the rest of the season. The Redskins last played in a "Thursday Night Football" game on Dec. 6, 2007, a 24-16 home victory over the Chicago Bears that happened two days after the funeral for murdered free safety Sean Taylor.
They've played two other Thursday games since, but neither were part of the NFL Network package — a road loss to the New York Giants in the season opener in 2008, and a road victory over the Dallas Cowboys last year in a mid-afternoon Thanksgiving game.
To even have a chance at adequately preparing for the games, coaches have had to begin crafting their game plans well in advance. The Redskins' coaches would normally do so early Monday afternoon for a Sunday game, but for Thursday, preparation began late last week — after all other obligations for the game against the Chargers were met.
Vikings coach Leslie Frazier said his coaching staff began preparation on Friday, and some assistant coaches even returned to the team's facility Sunday night, after a road loss to the Cowboys, to continue work.