After sidestepping the issue for weeks, President Obama on Thursday apologized to Americans who are losing their health insurance despite his repeated and emphatic promises that it wouldn't happen.
The president made the admission on a day when Senate Republicans demanded that he fire his top health official in response to "undeniable" problems with Obamacare's rollout and his White House fends off doubts that it can fix a balky website that is spoiling the health care law's debut.
"I am sorry that they are finding themselves in this situation based on assurances they got from me," the president told NBC in an interview recorded at the White House on Thursday afternoon. "We've got to work hard to make sure that they know we hear them and we're going to do everything we can to deal with folks who find themselves in a tough position as a consequence of this."
---
SEE ALSO: Sebelius hits the road to defend Obamacare
---
Mr. Obama's comments represent something of an about-face for the administration, which until now had argued that Americans were aware all along — or should have been aware — that Obamacare would result in many people losing policies because they don't comply with the law's standards.
About 5 percent of Americans — 14 million people — have plans through the individual insurance market. As many as two-thirds of them could lose coverage because it does not comply with the president's signature health care law. The situation has led to a backlash on Capitol Hill, with lawmakers on both sides of the aisle backing bills that would allow consumers to keep their coverage no matter what.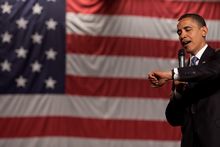 Some senators went further Thursday. Sen. Pat Roberts, Kansas Republican, and nine other lawmakers signed a letter that calls for Health and Human Services Secretary Kathleen Sebelius to lose her job over problems with the Affordable Care Act.
---
SEE ALSO: Fire her! Ten Republican senators press Obama to boot Sebelius
---
"Regrettably, these problems were diagnosed early and ignored," the senators wrote, citing inspector general reports from this year.
Compounding the turmoil, a bipartisan pair of senators followed through on a proposal to postpone the law's individual mandate for one year in light of the roadblocks to coverage.
The mandate, which requires most Americans to have health insurance next year, was placed in the law to ensure that young, healthy consumers keep premiums in check when those with pre-existing conditions enroll because they no longer can be denied coverage.
"Since the Affordable Care Act passed in 2010, there have been many identifiable problems exposed in the law that need to be addressed," Sen. Joe Manchin III, West Virginia Democrat, said in filing the bill with Sen. Mark Kirk, Illinois Republican.
"We've worked through a few of these issues, but our job in Congress is far from over. We need to start working together to fix this law and make it work so that all Americans have access to affordable and reliable health care coverage," the two men said.
The rising discontent on Capitol Hill and Mr. Obama's apology capped a week when the president was massaging earlier statements by adding an "if" to his promise, offered more than 30 times over the past several years, that "if you like your plan, you can keep your plan."
"If you had one of these plans before the Affordable Care Act came into law and you really liked that plan, what we said was, 'You can keep it if it hasn't changed since the law passed,'" Mr. Obama said earlier in the week.
No previous public statements contained the caveat that plans must remain unchanged, but they often were spiked with such emphatics as "period" and "no matter what." The Politifact fact-checking journalism site gave Mr. Obama's statements a "Pants on Fire" rating.
Senate Democrats, several of whom face tough re-election battles next year in Republican-leaning states, are increasingly nervous about the rocky rollout of the law. The Affordable Care Act essentially belongs to their party because they passed it with no Republican votes in Congress, cheered it on for three years and helped precipitate a partial government shutdown last month by refusing Republican demands for a delay.