ANALYSIS/OPINION:
The smile couldn't hide.
Under blinding sunlight, Jarvis Jenkins stood on a small rise overlooking the the practice fields at Redskins Park on Tuesday afternoon as if he'd never been gone.
Drops of sweat merged into small rivers that trickled down his forehead and into his No. 99 jersey. The big man didn't mind. He was finally back.
The uncomfortable reality of the last month seeped through the easy grins. While the defensive lineman served a four-game suspension for violating the NFL's performance-enhancing drug policy, opponents shredded the Redskins' defense that ranks second-to-last in the league after allowing 1,762 yards.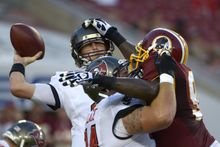 "It kind of felt like I had something to do with us losing," Jenkins said. "Obviously I made a dumb mistake that hurt our team."
All the 25-year-old could do was watch. The helpless feeling is one that's all too familiar.
The last two and a half years left him wondering what went wrong. Jenkins avoided injury and trouble at Clemson. But after the Redskins picked him 41st overall in the 2011 draft, he tore his right anterior cruciate ligament in the second preseason game and missed the entire season. This July, the NFL suspended him after failing a drug test that Jenkins claimed was caused by a tainted over-the-counter dietary supplement he purchased at General Nutrition Corporation.
Entering his third season, the man expected to be a long-term fixture on the defensive line has just 16 games of regular-season experience. Adversity, self-inflicted or otherwise, is becoming familiar. So, too, is the search for redemption.
On Tuesday, Jenkins and linebacker Rob Jackson, also suspended four games, practiced for the first time since finishing their punishments. Nothing could pry the grin off Jenkins. Not the 80-degree day or extended conditioning drills that left him looking as if he stepped out of the shower.
"It's like I'm a rookie all over again," Jenkins said.
Sitting out for a mistake he still can't believe he made is bad enough. But watching the Redskins struggle to an 1-3 start entering the bye week thanks, in part, to a battered defense? That hurt in a way no league punishment ever could.
Forget that one man isn't going to transform the troubled defense. Each of the 112 points the Redskins allowed worsened the sting of his mistake.
Jenkins knew he could help. Believed the results could've been different if he was on the field. Instead, he watched games on television at home in Ashburn or during a quick visit with his parents, Larry and Lica, in Columbia, S.C., and exchanged texts with teammates like defensive tackle Chris Baker. Jenkins didn't want to be alone. That's when negative thoughts crept in.
Lica's words burned in her son's mind: "Obstacles are what you've got to overcome to become great." He's close to his parents, who played key roles in helping him through the emotional recovery from the knee injury and, once again, tried to focus his attention on moving forward. But the last month felt like a flashback to that awful year.