The Washington Nationals did not expect to be here, reduced to watching the postseason from the couch as the calendar turned to October.
But as they go about planning their offseason and looking toward the 2014 campaign, the Nationals are confident no overhaul is necessary to turn the franchise back toward the playoff form of 2012.
"Just a little tweaking going forward and it should be a lot of fun here in Washington," said outgoing manager Davey Johnson.
They took pride in the final six weeks of the season, in which they played like the best team in baseball, and of the maturation that came from playing as poorly as they did the first four months.
"The Nationals will be a scary team next year," said right-hander Dan Haren, who is not likely to return. "The talent is there for next year and this organization is in a good place."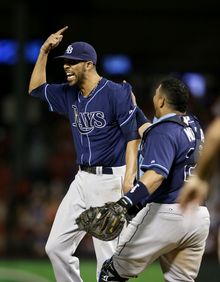 As general manager Mike Rizzo and the rest of his front office enter the offseason, hiring a manager is, as the GM put it, "Job No. 1." But once that's completed, what do the Nationals have to do to ensure that they don't repeat as also-rans?
"A manager is going to have input on what we do with the roster construction and that type of thing," Rizzo said. "But I think the team, as far as the core group, is set up pretty good. The core rotation and the core bullpen is set up pretty good. We're going to look to obviously better ourselves in any way we can.
"We'll probably look to improve the bullpen, see if we can improve the bench a little bit. And any other way that we can improve the everyday lineup, if there's any way we can do that, we'll certainly look into that also."
Here are three key areas to watch this winter:
Bolstering the bullpen and bench
The production from the Nationals' bench improved later in the year, right along with the rest of their offense, but they still hit just .207 in pinch-hit situations and Steve Lombardozzi was their most productive pinch-hitter.
Scott Hairston, who did well hitting left-handed pitching, is under contract for next season, filling a veteran right-handed role. The Nationals will have to figure out if they can rely on Tyler Moore in a bench role again next year, and how they plan to fill the left-handed side of their bench — if they plan to replace Tracy, if they have some internal solutions they can rely on, like Corey Brown, or if a player like (brief National) David DeJesus is a fit.
A lot of that, however, depends on who the manager is and how he likes to use his bench. Johnson often preferred more offensive, veteran bench players. A different manager may use his bench in a different way.
As for the bullpen, the Nationals' most pressing need remains left-handed relief.
While Ian Krol and Fernando Abad performed well early on in their call-ups this season, they faded later in the season as Xavier Cedeno came on. Perhaps the Nationals will wade into the free-agent pool here again and try to secure someone like J.P. Howell, who turned the Nationals down last year in favor of a one-year deal with the Dodgers, or Oliver Perez, who has reinvented himself as a reliever the last two seasons.