Congress spent the weekend insisting that it will reach a deal to raise the federal government's borrowing limit by Thursday but making scant progress even as all sides tried to reassure itchy financial markets ahead of the stock market opening Monday.
Most of the action Saturday and Sunday was negative: Republican senators filibustered Senate Democrats' proposal for a 15-month debt-ceiling holiday, and those Democrats in turn said they couldn't accept Republicans' compromise to reopen the government and extend the debt limit while making minimal changes to Obamacare.
The best lawmakers could muster were promises of more talks in the few days left until Thursday, when the Treasury Department says it will run out of maneuvering run and will bump into the $16.7 trillion debt limit.
---
PHOTOS: Lots of talk, little action on debt deal in Congress
---
"I had a productive conversation with the Republican leader this afternoon. Our discussions were substantive and we'll continue those discussions," said Senate Majority Leader Harry Reid, Nevada Democrat, who was closing down a rare Sunday session. He pronounced himself "optimistic about the prospects for a positive conclusion."
Meanwhile, the government shutdown neared the two-week mark amid growing protests over the closure decisions the Obama administration has made. During a protest on the Mall on Sunday, veterans and other supporters broke down the barriers around the World War II Memorial and tried to carry them to the White House in a challenge to the National Park Service's decision-making.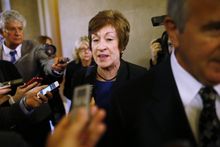 On Saturday, talks between President Obama and House Republicans collapsed. Republican lawmakers said they concluded that the White House was negotiating in bad faith.
---
SEE ALSO: IMF chief: U.S. dance with the debt limit is 'very, very concerning'
---
Mr. Reid and his Republican counterpart, Sen. Mitch McConnell of Kentucky, stepped into the breach, saying they would try to finalize a deal.
Mr. McConnell said one was already at hand — the proposal from Sen. Susan M. Collins, Maine Republican, to delay an Obamacare tax on medical devices and impose stricter checks on those receiving government subsidies under the Affordable Care Act.
Her proposal would repeal the Affordable Care Act's tax on medical devices — a repeal that's popular on both sides of the aisle — and would impose eligibility tests to weed out fraud among those receiving taxpayer aid from Obamacare.
But the chief holdup for Democrats is that her plan would extend current funding for six months, including leaving in place the budget sequesters, which kick in again Jan. 15.
Democrats want just a six-week extension of funding to raise spending. To do that, they must cancel the sequesters.
Ms. Collins had been negotiating her deal with a bipartisan group of about dozen of her colleagues, and Mr. McConnell issued a statement saying Democratic leaders should seize on it as the basis for talks.
"It's time for Democrat leaders to take 'yes' for an answer," the Kentucky Republican said.
But the six Democratic senators in those negotiations issued their own statement saying there was no deal, just talks.
"We have been involved in productive, bipartisan discussions with Senator Collins and other Republican senators, but we do not support the proposal in its current form," the Democrats said. "There are negotiations, but there is no agreement."