Sen. Rob Portman said Sunday the "greatest act of bipartisanship" over the last few decades has been both parties "over-promising and overspending."
"And so yeah, there's fault on both sides," the Ohio Republican told NBC's "Meet the Press." "And that's where we are."
Mr. Portman and Senate Majority Whip Dick Durbin, Illinois Democrat, traded talking points on the talk show Sunday, but found common ground in their belief that Congress and the White House will strike a deal to reopen the government and extend the nation's borrowing authority before Thursday — the Treasury-designated deadline to raise the debt limit.
"We'll figure it out, and it will probably be a relatively short-term solution," Mr. Portman said.
The senator said a prior attempt to address long-term spending, known as the "super committee," "wasn't so super, it turned out."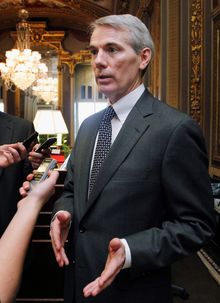 But he did agree with Mr. Durbin's take on entitlement spending, a piece of government spending that is expected to burden the U.S. government in the long-term.
"We know that come 10 years from now, Medicare is not sustainable financially," Mr. Durbin said. "We've got to do something. Why wait 10 years to see that reality? We know that Social Security has 20 years, or perhaps less.
What are we going to do about it today, in a small way, that will give it this longevity?"
President Obama has indicated in the past he is willing to take on his own party over entitlements, a slice of spending that liberal Democrats have been reluctant to take on.