Republican Steven Lonegan said Monday that Newark Mayor Cory Booker, his rival in the New Jersey Senate race, should come clean about where he lives following a news report that raised questions about where the Democrat calls home.
Looking to capitalize on polls that show his campaign is gaining momentum, Mr. Lonegan hosted a news conference "in front of Cory Booker's purported residence in Newark" — seizing on a story from the Daily Caller, a conservative website, in which neighbors said that Mr. Booker never lived in the apartment at 435 Hawthorn Ave.
The Booker campaign wrote off the attack and Monday's Hawthorne Avenue appearance as "another laughable, desperate stunt to distract people from his extreme positions." Mr. Booker personally called the accusation "absolutely not true" in an interview with WCBS-AM in New York.
The campaign provided Buzzfeed with rental checks made out to the property's owner and said he had moved in recent weeks. The city's police chief told the liberal site that Mr. Booker had lived there for years but that other apartments in the unit were rented out, but left empty or occupied only by police, for security reasons.
President Obama, meanwhile, called on his supporters in a video message to go to the polls for Mr. Booker in Wednesday's special election to fill out the term of Sen. Frank R. Lautenberg, a Democrat who died in June at 89.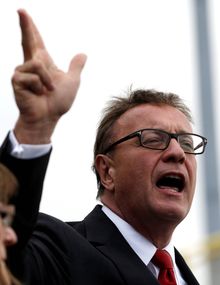 "Cory Booker has spent his entire life bringing people with different perspectives together, regardless of party, to take on tough challenges," Mr. Obama said in the clip. "Take it from me: Now more than ever before, that's the kind of leader we need in the Senate. I'm asking you to pledge to vote for Cory on Wednesday."
The late-innings action coincides with polls that shows Mr. Booker holds a double-digit lead in the race.
A Monmouth University Polling Institute survey released Monday found that Mr. Booker enjoys 52 percent of support from state voters compared to Mr. Lonegan's 42 percent. Earlier this summer, the same poll showed that Mr. Booker had a 16 percentage point lead on Mr. Lonegan, the former mayor of Bogota.
"Concerns about Cory Booker's intentions to serve New Jersey continue to persist and his favorability ratings continue to drop," said Patrick Murray, director of the polling institute. "At the same time, voters clearly prefer Booker's political views over Lonegan's. The message seems to be that Garden State voters don't like to feel that their support is being taken for granted."
A new Rutgers-Eagleton poll released later in the day painted a different picture, giving Mr. Booker a 58 percent to 36 percent lead over Mr. Lonegan among likely voters.
"Other recent polls showed a narrower lead for Booker, but voters we talked to seem to have moved back in his direction," said David Redlawsk, director of the Rutgers-Eagleton Poll and professor of political science at Rutgers. "The debates presented a stark picture of the differences between the candidates, which appears to have led independents to prefer Booker. While both candidates came out swinging, Lonegan's attacks bordered on the taboo."
New Jersey Gov. Chris Christie announced in June that the state would hold a special election for the seat following the death of Mr. Lautenberg, the last remaining World War II veteran in the Senate.
Since winning their respective primary races, Mr. Lonegan has cast Mr. Booker as a radical liberal, and Mr. Booker has cast Mr. Lonegan as a tea party extremist.
Mr. Booker has been favored to win the seat for months, but conservatives are holding out hope that Mr. Lonegan can pull off the upset in the traditionally blue state — though they have had limited coordination with the Republican National Committee.
RNC Chairman Reince Priebus plans to travel to New Jersey on Tuesday to campaign for Mr. Lonegan.