When Nate Schmidt signed with the Capitals last season and was sent to Hershey of the AHL, Steve Oleksy provided something that really helped Schmidt out.
It was a place to stay. Oleksy had recently been recalled by the Caps and Schmidt took over his living space.
When Schmidt was recalled by the Caps last week, Oleksy was there to help again. This time, he offered his brain. Oleksy became Schmidt's mentor as well as his defensive partner.
"I got really amped up for the first game and he helped calm me down," Schmidt, 22, said. "He's been great to me, all the defensive guys have. Steve's been through it all and I'm really ecstatic to play with him."
Caps coach Adam Oates didn't factor mentoring into his decision to pair Schmidt with Oleksy. He likes to have a right-handed shot (Oleksy) pair with a left-handed shot. That there is some mentoring going is more of a bonus.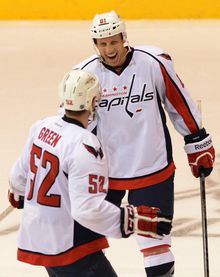 Oates recalled the relationships he built over his long playing career, mentioning guys like Doug Halward, Brett Hull and current Ottawa coach Paul MacLean.
"We became good buddies, talked hockey a lot," Oates said.
That's what Oleksy is trying to do with Schmidt, even as he continues to learn about life in the NHL himself.
The Caps defensive corps is an interesting group, particularly when John Erskine is injured and not in the lineup. Even with him, there's a good bit of inexperience. Without him — and the Caps are unsure if he'll be back for Wednesday's home game against the Rangers — the inexperience level goes from a good bit to considerable.
Washington has three defensemen who have combined for 948 games in Mike Green (439), Karl Alzner (269) and John Carlson (240). Oleksy, Schmidt and Alexander Urbom have a combined 51 games, and Oleksy has 32 of those.
Oleksy is definitely the captain of the new crew. At 27, he's five years older than Schmidt and Urbom. He's been a pro since 2009, playing in three minor leagues before getting his first NHL look last season.
"I feel very comfortable in that role," Oleksy said of serving as a mentor. "Obviously I haven't played the number of games other guys have at this level. Being my fifth year as a pro, through the minor leagues and different teams and situations, I've been through a lot and learned a lot. Anything I can pass down to those guys, I like doing it.
"Guys like Schmitty are excited and willing to learn, which is huge. I feel I can offer a lot of help, even though I haven't played that many [NHL] games."
Given the way he has to play, Oleksy may be a more ideal mentor than some of his more experienced teammates.
He tries to be a solid, stay-at-home defender who isn't afraid of the occassional fight. He's not flashy. The Caps have plenty of that elsewhere, including the defensive corps. He knows the game well. And he shouldn't sell himself short on his puck movement. Two of the Caps' better passes in recent games came from him — one to Brooks Laich for a goal Monday in a victory over Edmonton and a beauty to Marcus Johansson for a goal in last season's playoffs against the Rangers.