Aggressively promoting a homosexual agenda abroad, the Obama administration recently denounced Serbia for canceling a gay pride parade, expressing strong diplomatic displeasure at the culturally conservative Balkan nation.
The decision to ban the parade for a third year in a row outraged the U.S. Embassy in Belgrade and Ambassador Daniel Baer, the openly gay envoy to the Organization for Security and Cooperation in Europe.
The embassy said it was "strongly disappointed" by Prime Minister Ivica Dacic's decision to cancel the Sept. 28 parade, condemning his action as a violation of the freedoms of speech, assembly and association.
"These rights are basic human rights," the embassy said.
Mr. Baer accused Serbian authorities of appeasement: "We are disappointed that the Serbian government acquiesced to those who threatened violence."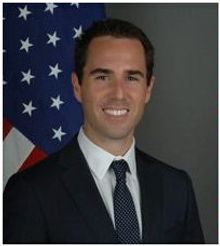 Mr. Dacic said he called off the parade because of threats of violence from anti-gay thugs, who beat up homosexual marchers in 2010.
"This is not a capitulation to the hooligans, but an attempt to prevent chaos on the streets of Belgrade," he said.
The reaction against Serbia is the latest development in President Obama's campaign to advance the gay agenda, even in countries where homosexuality is illegal.
But a review of U.S. Embassy websites in Arab nations found no reference to gay issues.
PresidentClinton designated June as "Gay and Lesbian Pride Month" in 2000, but Mr. Obama expanded the declaration to "Lesbian, Gay, Bisexual and Transgender Pride Month" in 2009.
Along with Mr. Baer, the president has appointed openly gay ambassadors John Berry to Australia, James Brewster to the Dominican Republic, James Costos to Spain, Rufus Gifford to Denmark and David Huebner to New Zealand.
Mr. Clinton and President George W. Bush each appointed only one homosexual ambassador during their two terms in office.
Ambassadors under Mr. Obama — whether political appointees or career diplomats — have embraced the mission.
David H. Thorne, an Obama campaign supporter who stepped down as ambassador to Italy in September, invited pop singer and gay icon Lady Gaga to join a gay pride march in Rome in 2011.
Most recently, Ambassador Patricia Haslach in Ethiopia announced that the gay agenda is one of her top priorities, disregarding Ethiopian law.