For many, getting through Marine Corps training is a challenge in itself. Hunting for roadside bombs and weapons caches in Iraq and Afghanistan as a combat engineer is an even bigger challenge. Learning to walk, run and bike after losing both legs in a roadside bomb explosion may be the biggest challenge of all. To then train, compete, and win bronze at the 2012 Paralympics is downright impressive.
But if you're Rob Jones, all of that wasn't enough. Now Jones, a double amputee and Paralympian in rowing, has a new challenge: to bike 5,400 miles across America.
And while he is not sure when he will finish, he is sure he will finish.
"You just got to remember what you're trying to achieve," he said recently before driving to his starting point in Bar Harbor, Maine. "That's pretty much it. You remember that what you're trying to achieve is more important than what you want in the moment. So I might want to stop, but I want to finish more than I want to stop. As long as I still want that, I won't have a problem with continuing."
Mr. Jones, a native of Lovettsville, Va., and a graduate of Virginia Tech, plans to ride 30 miles a day for what he estimates will be the next four to seven months. Stopping along the way to talk with any school or group that asks, Mr. Jones has an even bigger goal than just reaching California. He hopes to raise $1 million for the programs that helped him when he needed it most.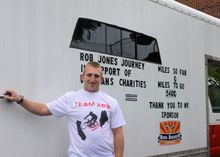 With those two goals in mind, on a crisp Columbus Day morning in Bar Harbor, Mr. Jones strapped in one prosthetic leg to his custom-fixed bike. As his younger brother Steven started the truck that will follow him for the entire journey, Mr. Jones pushed down on the handlebar and pedal, simultaneously lifting his body onto the seat. Using the momentum for stability, he strapped in his other prosthetic, and without any fanfare began his next adventure.
The fact that Mr. Jones is even riding a bike is inspiring. While searching for explosive devices in Afghanistan in 2010, Mr. Jones jokes that he "used my foot instead." The resulting explosion required both of his legs to be amputated above the knee, and led to months of recovery and physical therapy first at the National Naval Medical Center in Bethesda and later at Walter Reed Army Medical Center in the District. It was there that Mr. Jones decided he wanted to ride a bike.
"Nobody who had gone through Walter Reed had done it while they were there, so I figured it's a little extra challenge for me to try and relearn how," Mr. Jones said. "And I liked riding bikes, so I wanted to be able to do that again."
In addition to getting on and off his bike, Mr. Jones had to relearn how to walk, stand, run and pedal. Instead of extending his quad muscles as other bikers do, Mr. Jones imagines himself moving what's left of his legs in an up and down motion. While it may look like the same motion any other biker would use, Mr. Jones explained that it's far from it.
"I'm kind of doing it with a handicap literally and figuratively," he said, gesturing to his prosthetics. "Most people use their quad muscles, their calves and their glutes to move the bike, and I'm just using my glute muscles. That's all I have to use."
It took Mr. Jones nine months to relearn how to ride a bike, and now that he has, there is no stopping the 28-year-old.
"I figured once I learned it I'd do something big with it," Mr. Jones said. "It doesn't really get too much bigger than cycling across America. On top of that, I figured if I was doing it, I might as well raise money for charity."
All of the money raised on Jones' website, robjonesjourney.com, will go to the three charities that helped Mr. Jones and his family acclimate to his new life: the Semper Fi Fund, the Coalition to Salute America's Heroes and Ride 2 Recovery. Refusing to use any donated money for himself, the low-key Virginian plans on sleeping in the back of his truck with his brother.
"It's going to be work, but at the same time it's going to be something that I should enjoy," he said. "It's not a job, but it is going to be work."
Although a solitary endeavor, Jones' journey has become a family affair. In addition to Steven driving the truck that will act as protection, home and publicity for Jones, their older sister Alison designed T-shirts that they plan to sell on Jones' site.