The lead contractor on the bug-riddled website tied to Obamacare is set to tell Congress that it takes some blame for problems with the system but that a government agency called many of the shots ahead of the site's Oct. 1 debut and another contractor's work created a "bottleneck" among users on the front end of enrollment.
Cheryl Campbell, a senior vice president at CGI Federal, submitted testimony to the Energy and Commerce Committee that says her company takes a large share of responsibility for the federal exchanges and wants to make a user-friendly experience their top priority.
However, she is slated to say that the Centers for Medicare and Medicaid Services (CMS) "serves the important role of systems integrator or 'quarterback' on this project and is the ultimate responsible party for the end-to-end performance of the overall Federal Exchange."
---
SEE ALSO: Obamacare concern: Health care users start to get kicked off insurance plans
---
Republicans who lead the House committee are expected to grill CGI Federal and three other contractors about what went wrong with the site, HealthCare.gov, and components of the data hub that connects multiple federal agencies so residents from three dozen states can shop for private insurance, often with the help of government subsidies.
Health and Human Services Secretary Kathleen Sebelius was not made available and is expected to testify next week.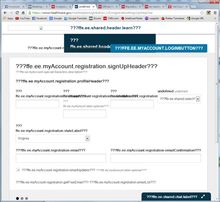 The rocky rollout this month of the online portal, known as an exchange, has embarrassed and angered President Obama as he tries to prove that his key legacy item, the Affordable Care Act, will help millions of Americans gain health coverage and not be the train wreck that Republicans predicted.
---
SPECIAL COVERAGE: Health Care Reform
---
Andrew Slavitt, executive vice president of a company that owns Quality Software Services Inc., is scheduled to testify that his company's registration tool — the one CGI Federal blames for the bottleneck at the outset of sign-ups — worked well in testing, but that other vendors played a role in registration and the tool was overwhelmed by high volume.
"It appears that one of the reasons for the high concurrent volume at the registration system was a late decision requiring consumers to register for an account before they could browse for insurance products," Mr. Slavitt says in prepared remarks. "This may have driven higher simultaneous usage of the registration system that wouldn't have occurred if consumers could 'window shop' anonymously."
Rep. Darrell E. Issa, California Republican, who serves as the House's top investigator, has written letters to top tech officials in the Obama administration inquiring if the White House decided to put the browsing feature on the back end so consumers registered and knew about possible subsidies first before seeing their potential premiums.