DENVER — For a crowd that had been boisterous all half, its noise and stomping shaking the stadium, the hush that fell over Sports Authority Field after DeAngelo Hall trotted into the end zone was breathtaking.
The Washington Redskins cornerback had crossed the goal line with 11:25 remaining in the third quarter, intercepting a pass from Denver Broncos quarterback Peyton Manning and returning it 26 yards for a touchdown and, eventually, a 14-point lead.
Just like that, an offense that for weeks could do no wrong – and a defense that had often struggled to do anything right – had each reversed course.
---
SEE ALSO: FENNO: Mike Shanahan can't escape shadow of past success
---
"When we came in [tied at halftime], we knew the job wasn't done yet because we knew who was on the other side of the field," free safety Jordan Pugh said. "Of course, it's a good feeling as a defense holding Peyton to seven points going into halftime, but we knew it didn't mean much."
It didn't. The deficit was nothing to the Broncos, who nearly climbed out of a similar hole a week ago in a loss to the Indianapolis Colts. They scored on each of their next four drives, capitalizing on mistakes by the Redskins to snatch a 45-21 victory.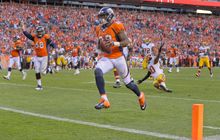 Washington (2-5) didn't seem likely to be able to pull off a victory in the first place. After all, the Broncos entered Sunday averaging an incredible 42.6 points per game – a mark that, if sustained, would easily set the record for the most points scored by a team over the course of a season.
---
SEE ALSO: RG3 knee injury final indignity in Redskins' collapse
---
And the Redskins would have to face Manning, who had thrown for 366.4 yards per game in the Broncos' previous seven outings, with a depleted defensive backfield.
The third-quarter advantage, however, had the Redskins thinking the result wasn't so predetermined.
"I thought it was critical to answer," said Manning, who completed 30 of 44 passes, including his first six, for 354 yards and four touchdowns. "We knew at halftime we were going to have to go the long haul – and we did."
Manning led the Broncos (7-1) to a seven-point lead five minutes in, cutting through the Redskins' defense seemingly without effort. Wes Welker caught his ninth touchdown pass, tying a single-season high just eight games in, on a 6-yard out route.
But the Redskins, who had struggled all season long to convert on third down and sustain drives, were able to do so late in the second half. A 16-play, 95-yard drive that lasted just over seven minutes ended when receiver Leonard Hankerson caught a 7-yard touchdown pass from quarterback Robert Griffin III, sending the teams into halftime tied at 7.
A different Redskins defense emerged from the locker room. Five plays into the second half, Manning dropped back to pass and was stripped of the ball by outside linebacker Ryan Kerrigan, with the ball bouncing farther into Washington territory before outside linebacker Brian Orakpo fell on it at the 19-yard line.
Running back Alfred Morris carried the ball three times, gaining all 19 yards, to score the go-ahead touchdown just over two and a half minutes into the third quarter. Then, on the very first play from scrimmage, Manning threw a pass right into Hall's hands, with his intended receiver, tight end Julius Thomas, jammed at the line of scrimmage and falling down on the play.
"All we had to do was get a couple drives offensively going, keep Denver off the field, and we could have dictated the outcome of the game," Redskins head coach Mike Shanahan said. "But credit to them – they found a way to get us off the field, and they kept a couple drives going."
Manning led the Broncos on a pair of prolonged touchdown drives. The Redskins' offense went three-and-out on its ensuing drive, which ended in a shanked, 35-yard punt by Sav Rocca, and the Broncos scored immediately on a 35-yard screen pass from Manning to running back Knowshon Moreno.