KINGSVILLE, Md. — Grant Nelson attends the Community College of Baltimore and works as a physical therapy technician. He's also a werewolf.
Alexis Blake handles inside sales and customer service for a manufacturer's representative company and has a 16-year-old son. By night, she's a witch.
Mr. Nelson and Ms. Blake are actors at the Creepywoods Haunted Forest, and, with owners Allan and Jill Bennett, come October they're in the business of scaring people.
Six years ago, the couple opened Creepywoods on farmland off Interstate 95, about 30 minutes north of Baltimore. Though it shares property with a pumpkin patch and a farmer's market, once visitors enter the haunted forest, the surrounding area — including the din of nearby traffic — disappears into the darkness.
"People show up to be frightened," Mr. Bennett said. "They come out and have fun and get lost in the story. It's fun to see people get scared."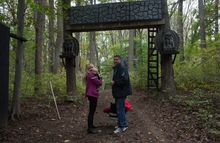 Mr. Bennett, 37, grew up working at haunted houses around the Baltimore area, but his wife Jill, 37, was introduced to the business only after their relationship began in the late 1990s.
"I thought, this is not a real job," she said with a grin.
About 13 years ago, the Bennetts created their first haunted site, Bennett's Curse in Jessup.
"It was an exciting time and it was a scary time." Mr. Bennett said. "We were still pretty young and we were trying to create something high-quality."
The premise of this season's story at Creepywoods, like the ones before it, Mr. Bennett said, "is death."
Early settlers, confronted by an uncontrollable number of their villagers dying off, attempt black magic to bring their loved ones back to life, but only create trouble for the village and forest.
"It's scary — not vulgar or obscene," Mr. Bennett said. "We listen to customers, try to live up to their expectations and exceed them. We try to get better than the year before."
Torches light the way for visitors along the dirt path as they make their way through the woods. The first stop they'll have to brave is the witch's shack, where Ms. Blake "greets" her victims.
"Depending on my mood — and their mood — they might get chased to the next building," Ms. Blake said. "For us, we do develop a way to feel the audience. You don't go after the people who are terrified, but the people who scream and laugh and jump and run."
Ms. Blake grew up in Baltimore and said she's "always been a horror fan — scary stories, anything in that vein."