As shrinking budgets force the Pentagon to thin its ranks, troops engaging in their own belt-tightening increasingly are turning to liposuction to meet stringent physical standards and remain in the military.
Calling it "military lipo," doctors say service members are seeking the procedure to meet the "tape test," which uses a ratio of the circumferences of the neck and the waist to determine a person's body fat percentage. The bigger the waist, the higher the percentage.
Mostly servicemen in their mid-30s and 40s are resorting to liposuction as a last-ditch effort to erase those inches, said Dr. Jason Miller, founder of Renewal Body Contouring in Durham, N.C. He said service members have sought liposuction in increasing numbers at his clinic and more than 100 have undergone the procedure this year.
---
PHOTOS: Celebrity plastic surgery gone awry
---
"These people are usually in top shape. These guys are working out constantly, but they have spare tires they can't get rid of," Dr. Miller said.
The armed services — particularly the Army and the Marine Corps — have been reducing their forces as the U.S. military prepares to leave Afghanistan by the end of next year and smaller budgets constrain defense spending. Troops who do not meet performance, behavioral or physical standards can be removed from service.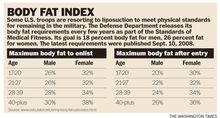 Service members who fail the tape test are ordered to spend months in a vigorous exercise and nutrition program, The Associated Press reported. Failing the test just once can halt promotions. Failing three times can be grounds for discharge, military officials say.
Although fitness standards have not changed in recent years, enforcement of the standards appears to be stricter. The number of enlisted soldiers being separated from service for not meeting physical fitness standards has almost quadrupled in the past three years.
In 2010, 460 soldiers were separated for not meeting weight standards. In 2012, that number grew to 1,815.
The Marine Corps reported a slight increase, with 102 Marines separated because of weight control failure in 2010 and 132 in 2012.
An Army spokeswoman said that while soldiers who exceed body fat standards can perform well on physical fitness tests, higher body fat is associated with higher risks for other medical conditions such as heart disease and cancer.
"The Army does not intend to make any changes to body fat standards at this time," the spokeswoman said.
Studies have shown a correlation among waist size, body fat and physical endurance, military officials said, and the tape test is the best, most cost-effective tool available, with a margin of error of less than 1 percent, according to the AP.
Dr. Miller is one of several physicians who say the tape test is not an appropriate way to measure fitness because of genetics and people with excessive muscles who are not obese.
He said many of the servicemen who come to his clinic have served as many as seven tours of duty and some are nearing retirement age.
"They put their lives on the line," he said. "I think this is an attempt by the military to cut back on the cost of benefits."