Chris Matthews appeared on "The Colbert Report" Wednesday night to promote his new book, "Tip and the Gipper," saying that it's going to be hard for President Obama to beat Ronald Reagan's legacy.
"Do you think Reagan was a better president than Obama is?" Stephen Colbert asked the MSNBC host.
"In the end, yes," Mr. Matthews responded. "In the end. Because he ended the Cold War.
---
SEE ALSO: MSNBC's Chris Matthews: 'I think Ted Cruz is brilliant'
---
"That's hard to beat," he said, adding that he believes the government shutdown "is going to go on weeks."
The pundit also took a jab at Fox News' Bill O'Reilly. Mr. Colbert asked Mr. Matthews why he didn't name his book "Killing Tip and the Gipper, referencing O'Reilly's books "Killing Lincoln," "Killing Kennedy" and "Killing Jesus."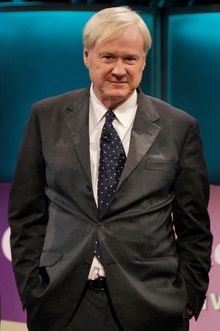 "When are we going to have the book we've really been waiting for, 'Killing O'Reilly?'" Mr. Matthews asked, receiving loud gasps with hesitated applause.
"I'm not saying it wouldn't be a big seller…" Mr. Colbert joked.