Irish singer Sinead O'Connor penned an expletive-ridden open letter to former Disney star Miley Cyrus, telling her to cover up and stop licking sledgehammers.
The letter is in response to a comment by the 20-year-old Cyrus in Rolling Stone magazine, where she compared her look in her new "Wrecking Ball" video to O'Connor's style in her iconic 1990 "Nothing Compares 2 U" video.
"So this is what I need to say… And it is said in the spirit of motherliness and with love," she wrote. "I am extremely concerned for you that those around you have led you to believe, or encouraged you in your own belief, that it is in any way 'cool' to be naked and licking sledgehammers in your videos. It is in fact the case that you will obscure your talent by allowing yourself to be pimped, whether it's the music business or yourself doing the pimping."
---
---
Cyrus has been splashed across international headlines ever since her provocative August performance at the MTV's Video Music Awards. She then released the video for "Wrecking Ball," in which she rides a wrecking ball while nude and suggestively licks the wrecking ball's chain and a sledgehammer.
"Nothing but harm will come in the long run, from allowing yourself to be exploited, and it is absolutely NOT in ANY way an empowerment of yourself or any other young women, for you to send across the message that you are to be valued (even by you) more for your sexual appeal than your obvious talent," O'Connor continued.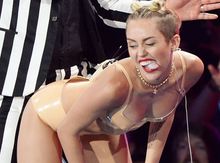 The singer continued to blast the entertainment industry, often referring to agencies as "pimps" and Miley Cyrus as a "prostitute."
---
PHOTOS: Eye-popping evolution of Miley Cyrus: A far cry from Hannah Montana
---
"The music business doesn't give a [expletive] about you, or any of us. They will prostitute you for all you are worth, and cleverly make you think its what YOU wanted.. and when you end up in rehab as a result of being prostituted, 'they' will be sunning themselves on their yachts in Antigua, which they bought by selling your body and you will find yourself very alone."
"The message you keep sending is that its somehow cool to be prostituted," she concluded. "Kindly fire any [expletive] who hasn't expressed alarm, because they don't care about you."
Cryus poked fun at O'Connor on Twitter Thursday, comparing her to Amanda Bynes, who has been on a psychiatric hold since July.