ANALYSIS/OPINION:
As many journalists focused on the technical problems of HealthCare.gov, the website for signing up for the Affordable Care Act, few looked at a much more serious problem — the actual cost of Obamacare for individuals and families.
I had resisted the tendency to test the system, but cheery emails and updates sent to me from aides to Kathleen Sebelius, the secretary of the Department of Health and Human Services, got me curious about what was behind the curtain.
A few anecdotal stories popped up about higher premiums like The Daily Beast's David Frum harrumphing about having to pay $200 more a month with a significantly higher deductible.
President Obama said families would save an average of $2,500 a year, but that certainly would not apply to me if I had to buy my current insurance coverage under the new program. The plan for my wife, my daughter and me, which costs $4,604.52 a year through Temple University, would run an estimated $14,472.72. That's an increase of nearly $10,000 a year, or more than 200 percent.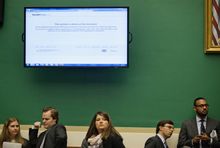 A Heritage Foundation survey estimated only five states would see actual reductions in insurance premiums. Eleven states would have increases of more than 100 percent for those 27 years old and younger. Thirteen states would have hikes of more than 50 percent for those 50 years old and above. Arizona, Arkansas, Georgia, Kansas and Vermont face the largest increases in premiums. "Many families and individuals will face this reality as they apply for coverage, and the implications of experiencing sticker shock are important to consider if enough people choose not to sign up," the report stated. You can see the report at herit.ag/196AwoQ.
As Mrs. Sebelius and the administration faced criticism over the rollout of the health care website, including late-night talk show jokes that it was easier to join al Qaeda online than to get insurance, the spin doctors have been sending me material, with headlines such as "Tech Surge: How We're Making HealthCare.gov Better."
Some journalists bought the spin. For example, E.J. Dionne Jr., a columnist at The Washington Post, wrote about the exchanges handled by states and the District of Columbia rather than the federal government. He actually began his story this way: "Obamacare is working."
CBS News has been the most aggressive television network on the rollout debacle, including a variety of stories about the economic, political and social implications. The network's analysis found a completely different story from that of Mr. Dionne in many of the state-based health programs. Reporter Jan Crawford discovered more people were enrolling in Medicaid rather than buying private health insurance. "If that trend continues, there's concern there won't be enough healthy people buying health insurance for the system to work," she said.
NBC News also reported that many of the estimated 14 million consumers who buy their insurance individually might receive a cancellation letter or the equivalent because their existing policies don't meet the new standards under the law. The network maintained the administration knew about this prospect and apparently chose to ignore it on the 2012 campaign trail.
Although I understand the concern about the technical problems right now, those are likely to be fixed eventually. What is really scary is what the health care plan would cost for many individuals and families. I don't think I will be alone when other people face sticker shock when they finally get onto the website and check out the premiums. That's what the media need to start focusing on.
• Christopher Harper is a professor at Temple University. He worked for more than 20 years at The Associated Press, Newsweek, ABC News and "20/20." He can be contacted at charper@washingtontimes.com. Twitter: @charper51