For Democrats, it's simple: Sen. Ted Cruz is the face of the government shutdown and just about everything that is wrong with Washington. Republicans, though, aren't sure: The senator from Texas is either the best — or the worst — thing to happen to the party in years.
The freshman lawmaker's Democratic colleagues in the Senate have called Mr. Cruz a schoolyard bully, an anarchist and a puppet master of misguided lawmakers in the ongoing spending stalemate.
The anti-Cruz rhetoric grew so heated last week that Senate Majority Leader Harry Reid apologized for his nasty tone on the Senate floor after Republicans accused the Nevada Democrat of violating the "spirit" of decorum in the upper chamber.
---
SEE ALSO: Cruz: Democrats' attacks show Republicans are 'winning'
---
Since arriving in Washington this year, Mr. Cruz, a former debate champion at Princeton, has become the most visible and the most vocal opponent of President Obama's Affordable Care Act, warning in floor speeches, television and radio appearances and closed-door Republican meetings that the 2010 law will have a catastrophic effect on the nation.
"What the American people want is they want our government funded and they want to stop the harms from Obamacare," Mr. Cruz said Sunday on CNN. "Obamacare is hurting millions of people. It's killing their jobs. It's forcing them into part-time work. It's driving up health insurance premiums. And it's causing millions of Americans to lose or risk losing their health insurance."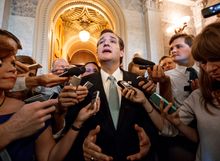 Mr. Cruz's unrelenting, hard-nosed style has rallied tea partyers and grass-roots conservatives to his banner.
---
SPECIAL COVERAGE: Health Care Reform
---
A Public Policy Polling survey found that Mr. Cruz has leapfrogged past the likes of New Jersey Gov. Chris Christie and Sen. Rand Paul of Kentucky to become the top pick of Republican primary voters in the 2016 presidential nomination race.
Mr. Cruz, though, also has ticked off Republicans who say the Texan's efforts are fueled as much by his personal political ambitions as they are by any desire to expand the party or foster good governance.
They also say his strategy to defund Obamacare is doomed to fail and is tarnishing the Republican brand.
Indeed, polls show that most Americans disapprove of the Affordable Care Act — but they don't support wrapping Obamacare into the fight over funding for other government operations, as has happened in the week-old shutdown.
Polls also show that more Americans blame Republicans for the impasse and that tea partyers, who now hold up Mr. Cruz as a political savior, back the shutdown, while the majority of the electorate — Democrats, independents and Republicans — do not.
"What I hope that doesn't happen is that with all this focus on this shiny object that was never going to happen, that we have taken our eye off the thing that is usually negotiated around the debt ceiling: that is reforms and reductions in spending so we don't have future deficits at the level we are now having them," said Sen. Bob Corker, Tennessee Republican.
Mr. Corker clashed with Mr. Cruz last month on the Senate floor, accusing the Texan of being more interested in raising his national profile than working toward a deal to prevent a shutdown.
Mr. Cruz also got an earful last week from his Republican colleagues during a closed-door meeting in which Sen. Kelly Ayotte of New Hampshire reportedly criticized Mr. Cruz for sticking with outside conservative groups that are attacking Senate Republicans for not embracing the no-holds-barred approach to defunding Obamacare.
Mr. Cruz has said that he is simply listening to voters and following through on a top promise he made on the campaign trail last year.