The NFL is all about matchups and the last few times the Washington Redskins and Dallas Cowboys have met, there has been a good one between cornerback DeAngelo Hall and wide receiver Dez Bryant.
They may meet again this Sunday in Dallas when the two teams square off in a nationally televised game. The last we saw Hall and Bryant on the same field was the de facto NFC East division title game at FedEx Field on Dec. 30.
Hall got the better of that matchup. Bryant was targeted just eight times by quarterback Tony Romo and finished with four receptions for 71 yards and no touchdowns. Washington took the game 28-18 and the division title and playoff spot that went with it.
But Sunday is a whole new challenge. Dallas (3-2) ranks fifth in the NFL in passing yards (1,425) and is coming off a monster offensive game Sunday against the unbeaten Denver Broncos in a loss at home.
"We're going to try to put the best matchups across the board for everybody to win so we can ultimately win the game as a team," Hall said. "But any time you've got a guy like [Bryant], who I feel like is a hell of a football player, one of the best in the game, you definitely want to bring it."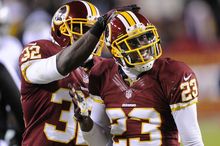 Romo had a career day despite the late interception that set up a 51-48 loss to Denver. He set a franchise record for passing yards in a single game (506) with five touchdowns. Many of those throws went to Bryant, who by himself had six receptions for 141 yards against the Broncos and two touchdowns. He is on pace to pass his career high in touchdowns (12) set just last season. Bryant has six already through five games so far.
"On offense, [Dallas] looked real good. Real good," said Redskins linebacker Rob Jackson, who returns from a four-game suspension this week to make his season debut. "But we're a different defense so I'm pretty sure that they're going to attack us a different way. We'll see."
Hall got the best of Bryant in the Dec. 30 game. It was a far more even matchup in the Thanksgiving Day game on Nov. 22. Bryant caught eight passes that day for 145 yards and two touchdowns, including one for 85 yards. But the Cowboys lost that contest, too, 38-31. Those two games helped keep Dallas out of the playoffs.
At 6-foot-2, 222 pounds, Bryant is a physical force who can overpower opposing corners even if they are in relatively good position. He finished last season with a career-high 92 receptions in 16 games. Hall insisted that there's no guarantee he will be the player matched up primarily against Bryant. Josh Wilson could fill that role, too, or one of Washington's other defensive backs. But given the recent history between the two players, that seems unlikely.
Hall and several of his Redskins teammates watched Sunday's shootout between Dallas and Denver. Bryant was having his way with Broncos veteran corner Dominique Rodgers-Cromartie. It got to the point that Hall said he was getting frustrated even watching.
Rodgers-Cromartie was often in position to make plays, but slight hesitations gave Romo the windows he needed to thread the needle and Bryant used his frame to take advantage. The hope is that Hall and the Redskins are more familiar with Romo and Bryant's tendencies because they play Dallas so often.
But to keep the Cowboys under control, Washington can't rely specifically on zone or man-to-man coverage. The Redskins need to change their looks, use a variety of blitzes to keep Romo off balance. And even then Romo will extend plays outside the pocket by eluding pressure. It's impossible to keep that from happening completely.
That puts immense pressure on Hall and the other defensive backs to stay with their receivers, especially Bryant. Most of Dallas' big plays come out of those situations. Hall is ready for the challenge.
"When we're on the field, it's he hates me, I hate him. Off the field, I like the kid," Hall said of Bryant. "He's matured a lot over the last year, year-and-a-half. He's a hell of a football player. But between the lines, it's me against him. He's trying to rip my head off. I'm trying to rip his off. This will definitely be a good game."